Rubber and Film Calender Lines
Our calender lines are used to manufacture plastic films and rubber sheets for tires. IHI continues to build on its strong record in this business around the world. We contribute to productivity improvements through our state-of-the-art high-precision thickness control technology and automation technologies.
---
Rubber and Film Calender Lines
Calender line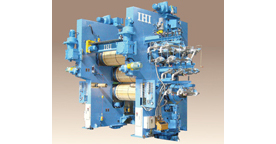 Calender line continuously produces various plastics and rubber films and sheets. IHI is a global leading manufacturer in precision calender lines.
Inquiries for Products
Contact
Download Documents
Other Products