Slitters
Slitters are roll-to-roll process machines which slit metal foil, paper, film, and other roll-shaped material and winds it back to the client-required width.
IHI's leading slitting and winding technology enables to maintain the quality of the material itself, and has been supporting Japan's top quality for copper and aluminum foil products, which has consequentially made IHI the leading slitter provider for more than five decades.
---
Slitters
Aluminum foil slitter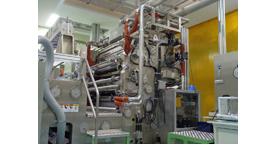 Slitter for aluminum foil used for products such as packaging material (for food, medical supplies, cigarettes, etc.), capacitors, and rechargeable battery electrodes. Among the slitters for various fields, the requirement for lithium rechargeable battery material is increasing.
With accumulated technology and experience, IHI offers high speed slitters for difficult materials such as soft aluminum foil (foil thickness of 10μm or less ) .
Copper foil slitter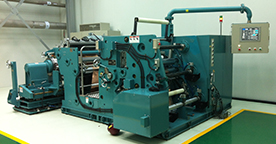 Slitter for copper foil used for products such as printed circuit boards (for PCs, cellphones, FPDs, and automobiles) and rechargeable battery electrodes.
IHI's unique technology provides high quality slitting and winding for micron-level thickness electro-deposited and rolled copper foil,
In order to comply with more wide needs, IHI is preparing to provide a new standard type slitter.
Other Products