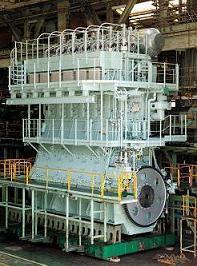 A 6RT-flex50 engine was shipped out from the Aioi Works of DU to a South Korean shipyard on the 30th November 2005.
This engine will be installed on the third vessel of the six bulk carriers in series.
The 6RT-flex50 engine was developed and designed for various types of vessels such as Handymax and Panamax bulk carriers, product tankers, feeder container carriers, medium-sized reefer container carriers, and so on.
The RT-flex engine features electronic control system of reliable design based on the long experience in service to date.
The unique feature of the RT-flex engine is the electronically controlled fuel injection and exhaust valve actuation made possible by the newly developed common rail system.
Thanks to this unique system the RT-flex engine can achieve both low fuel consumption and smokeless/smooth operation with low NOX emission even at a very low engine speed.