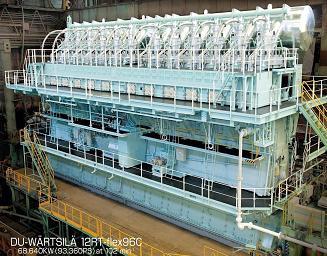 The 12RT-flex96C engine for IHI-MU's Kure shipyard was delivered on the 24th December 2005.
This engine will be installed on the sixth vessel of the eight 8450TEU container carriers in series (8450 containers of 20feet equivalent size can be loaded).
This engine is the first electronically controlled version of the 'RTA96C' engines highly reputed as main engine for container carriers.
The RT-flex engine features electronic control system of reliable design based on the long experience in service to date.
The unique feature of the RT-flex engine is the electronically controlled fuel injection and exhaust valve actuation made possible by the newly developed common rail system.
Thanks to this unique system the RT-flex engine can achieve both low fuel consumption and smokeless/smooth operation with low NOX emission even at a very low engine speed.
Technical information on the RT-flex engine: