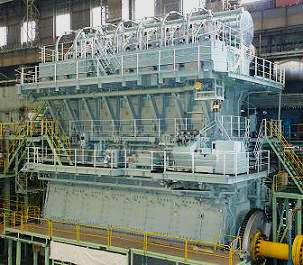 The official shop test of the world first 7RT-flex84T-D engine was successfully carried out at DU Aioi works on the 2nd March 2006.
This engine will be installed on the VLCC being built at IHI-MU's Kure Shipyard.
This engine is the first electronically controlled version of the 'RTA84T' engines highly reputed as main engine for VLCCs.
The RT-flex engine features electronic control system of reliable design based on the long experience in service to date.
The unique feature of the RT-flex engine is the electronically controlled fuel injection and exhaust valve actuation made possible by the newly developed common rail system.
Thanks to this unique system the RT-flex engine can achieve both low fuel consumption and smokeless/smooth operation with low NOX emission even at a very low engine speed.
This 7RT-flex84T-D engine is the DU's fourth type RT-flex engine following the RT-flex58T-B, RT-flex96C and RT-flex50.