DU releases new series of environment-friendly common rail engines, WÄRTSILÄ X62 and WÄRTSILÄ X72.
WÄRTSILÄ X62 covers the power range from 8,000kW to 21,280kW, and is suitable for panamax bulkers, aframax tankers and small container vessels.
WÄRTSILÄ X72 covers the power range from 10,800kW to 28,880kW, and is suitable for capesize bulkers, suezmax tankers and medium-sized container vessels.
These new engines enable the optimum tuning as well as RT-flex engines, adapting to the operational condition. Therefore it has an advantage in part-load fuel consumption compared with mechanical engines.
Engine Type
WÄRTSILÄ X62
WÄRTSILÄ X72
Cylinder Bore (mm)
620
720
Piston Stroke (mm)
2658
3086
Rating Point
R1
R1+
R1
R1+
Speed (rpm)
97
103
84
89
Power (kw)
2660
2660
3610
3610
Number of Cylinders
4 - 8
4 - 8
These engines are overall equipped with sensors so as to collect the entire data.
In combination with LC-A, these engines can prevent engine troubles at an early stage and help minimize the life cycle cost of your vessels.
*WÄRTSILÄ implements a new naming system with these models, and the new system is as follows: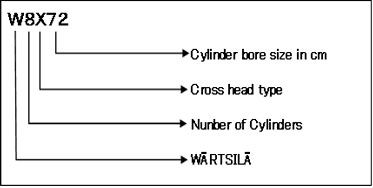 DU provides electronically controlled common rail engines to take social and environmental responsibility.
For further information, please feel free to contact us.