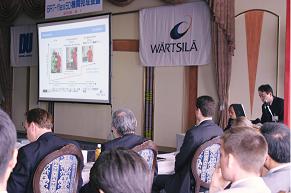 DU held Customer Day for the introduction of RT-flex50 engine on 1st June 2006 in Aioi works.
RT-flex50 engine is the 4th type in addition to the already announced RT-flex58T-B, RT-flex96C, RT-flex84T-D, as the ecological and human-friendly electronic control engine with common rail system.
About 100 customers attended to this Customer Day from Ship Company, Ship Management Company, Ship Yard, Classification Society and Press.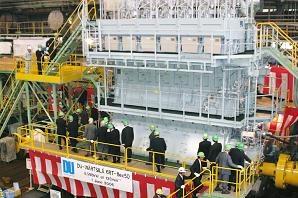 1. Technical presentation
After welcome speech of Mr. Kojima, president of DU, and Mr. L.Anderson, Vice President of Wärtsilä Switzerland, number of orders, performance, test results, actual results in service of flex engine and hearing results from shipyard / chief engineer of ship were presented.
In Q&A time, many valuable questions were given from shipowners and ship yards.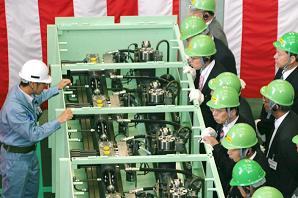 2. Demonstration of 6RT-flex50 engine and shop tour
RT-flex50 engine in operation, flex engine parts such as common rail unit were were seen. Customers gave their evaluations that RT-flex50 engine is clear and simple, compact.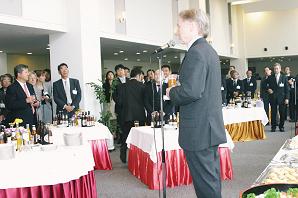 3. Buffet Party
Mr. Strand, President of Wärtsilä Switzerland, led to start party by his "Toast". Active and sharp discussion were made between customers and responsible persons of DU and Wärtsilä Switzerland.