IHI, IPC and Verdicorp entered into an OEM agreement for 100kW-class Organic Rankine Cycle systems.
IHI and IHI Plant Construction (IPC), a wholly owned subsidiary of IHI, entered into an OEM agreement with Verdicorp to supply Organic Rankine Cycle (ORC) systems. Verdicorp had already developed and sold 70 sets of ORC systems in USA, Australia and Europe.
The ORC system converts waste heat from diesel engines, gas engines, incinerator plants and chemical plants to electric power, and is also suitable for emerging renewable energy-markets, such as biomass, geothermal energy, etc.
Japan's regulatory body, METI just announced a relaxation of regulation on ORC systems on May 20th 2014. According to the new regulation, the temperature of working media can increase from 100deg C to 250deg C before a boiler-turbine specialist is needed. This is a great benefit to customers who install and operate ORC systems.
With their long standing experience in engineering, construction, maintenance of engine power plants, incinerators and many types of industrial plans, IHI group now is able to offer efficient solutions to convert waste heat into energy.
IHI and Verdicorp also entered into an agreement to develop low-temperature (70deC – 95deg C) systems which will be able to generate energy from a wider range of heat sources.
The feature of ORC system
・Low-cost & high reliability.
・Low maintenance (generator)
Frictionless, oil-free magnetic bearings.
・Safe organic working fluid
Non-flammable ,Non-toxic.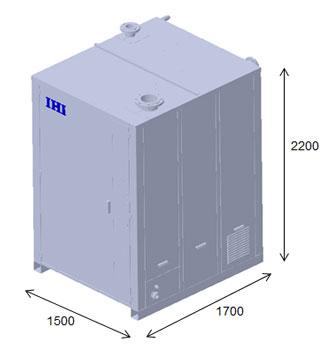 Image of the package