Slitters
Slitters are roll-to-roll process machines which slit metal foils, paper, film and other roll-shaped material, and wind them with requested widths.
IHI's leading slitting and winding technologies enable to maintain the high quality of the material itself, and has been supporting Japan's top quality for copper and aluminum foil products for over five decades.
---
Slitters
Aluminum foil slitter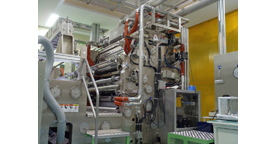 Slitter for aluminum foil is used for packaging materials (such as food, medical supplies, cigarettes etc.), capacitors and rechargable battery electrodes.
Copper foil slitter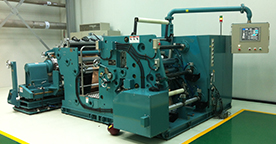 Slitter for copper foil is used for products such as printed circuit boards (PCs, cellphones, FPDs, and automobiles) and rechargeable battery electrodes.
Other Products