Environmental Response Systems
The environmental preservation systems offered by IHI significantly contributes to the protection and purification of the environment.
Leveraging our technology and experience, we carry out various waste treatment prioritizing as well as engineering, construction, operation and maintenance of various water treatment (industrial drainage and public sewage) facilities.
We also have a strong performance record of delivering flue-gas treatment system (desulfurization (DeSOx) / denitrification (DeNOx) equipment) incorporated into thermal power plants and various industrial plants.
---
Wastewater Treatment Facilities
Wastewater Treatment Facilities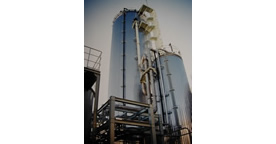 IHI engineers, constructs, operates and maintains anaerobic wastewater treatment equipment (UASB reactors, IC reactors) for industrial wastewater applications, and various water treatment equipment for municipal sewage facilities.
Our IC reactor is a high speed anaerobic effluent treatment system featuring a fermentation bio-reactor, that generates methane biogas from anaerobic organisms. By effectively utilizing the biomass from wastewater, it is the ideal solution to "achieve energy production through water treatment".
Links
Other Products