Applications
Carburizing, Oil quenching
Advantage of the vacuum cementation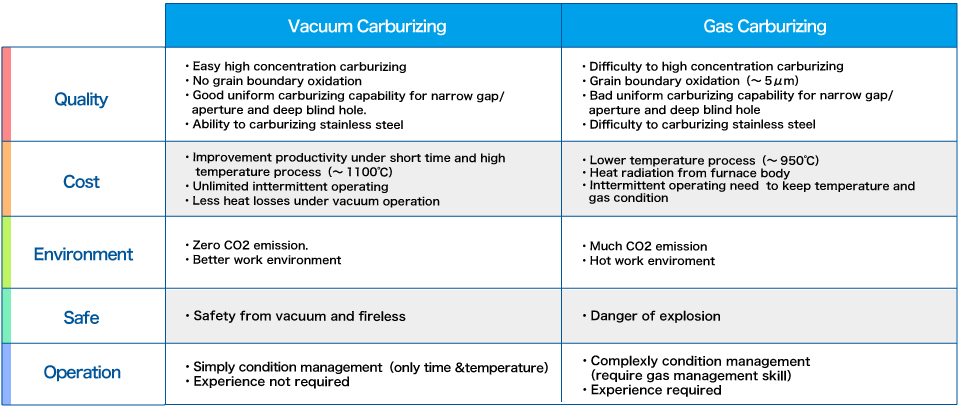 Vacuum Carburizing Furnace (VCB Type)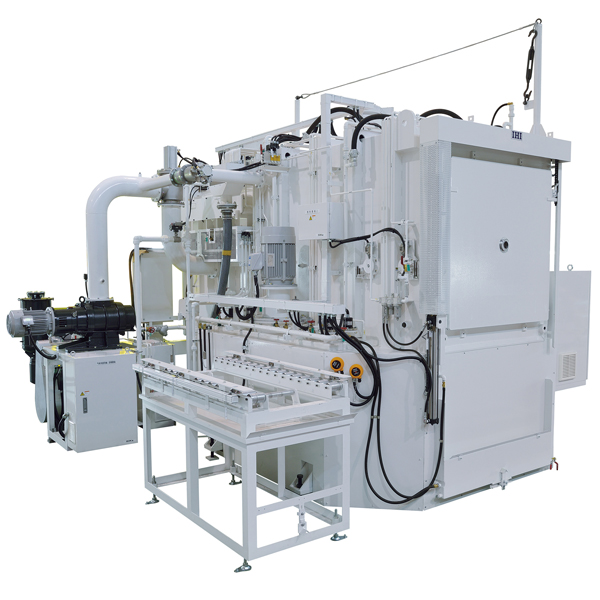 Features
High reliability

Low maintenance frequency,
therefore maintenance costs can be
reduced

Low utilities costs

Capable of a purge out with minimized soot generation

High energy efficiency and shorter
treatment time due to hightemperature
treatment

Treated products look nice and bright
Function table


Mass-Production Vacuum Carburizers (V-Cell)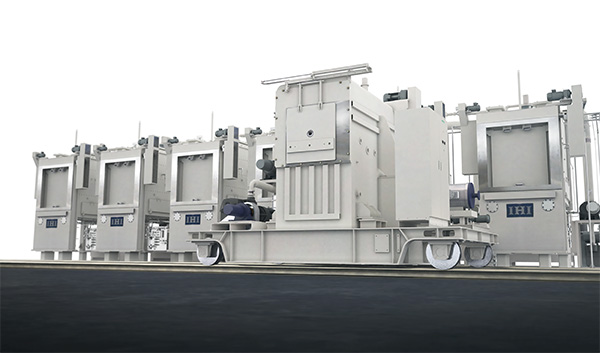 Features
An low-maintenance/easy-maintenance equipment/device with a configuration which focuses on carburizing and quenching.

The continuous vacuum carburizing allows the machine to improve its productivity.
Product configuration
Carburizing chambers: 6
(additional chambers possible)
Transfer cart with an oil quenching
chamber: 1
Loading/unloading mechanism: 1
Can be combined with a pre-/
post-degreasing and cleaning
machine and a tempering
furnace to build a vacuum
carburizing line
Product configuration
Product configuration
* Tray included in height
Model
Function table

Multi-Chamber Vacuum Carburizing Furnace (V-MALS)

Features
Fully-automatic and sophisticated multi-chamber vacuum carburizing furnace.

Achieving high productivity while keeping initial costs to a minimum.
Product configuration
Heating chambers: 1 - 3
Oil cooling chamber: 1
Loading/unloading
mechanism: 1
Function table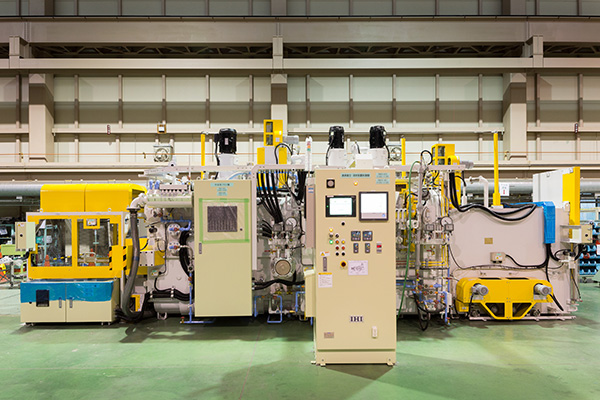 特長
ストレートスルー方式により、連続運転 大量生産が可能

コンパクト設計により、省スペース化を実現(約7700×3700×10500)

ピットレス仕様

ガス冷却のため後洗不要
製品構成
搬入室:1室
加熱浸炭室:1 室
冷却室(ガス冷):1 式
機能表

ガス冷式連続真空浸炭装置 (加圧加熱仕様)VCG-242448PHQ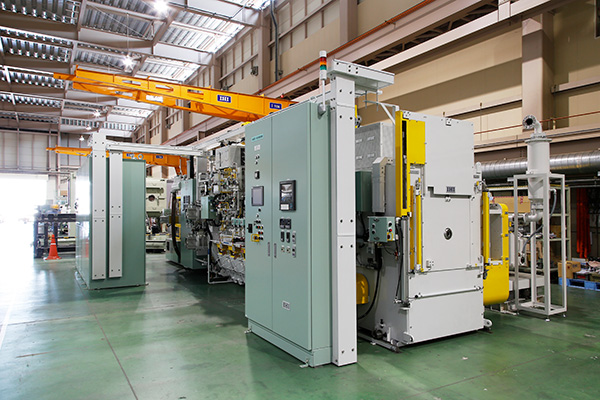 特長
ストレートスルー方式により、連続運転 大量生産が可能

コンパクト設計により、省スペース化を実現(約7700×3700×10500)

ピットレス仕様

ガス冷却のため後洗不要

加圧加熱仕様により、昇浸スピードが速い
製品構成
搬入室:1室
加熱浸炭室(加圧加熱仕様):1室
冷却室(ガス冷):1室
機能表