IHI TURBO PERFORMANCE

Usage notes:
This product is intended to be used only on racing vehicles on closed courses, and not for use on roads or vehicles otherwise subject to emission control requirements. Please check legality of aftermarket products with your country, local state, county, city authorities before purchasing. In USA, this product should not be used on any vehicles that is registered or licensed for use on public roads.
This turbocharger can be used as a trustworthy heavy-duty stock replacement , or for competitions with modifications of engine and peripheral accessories.
PRODUCT FEATURES
Compressor system has the high efficient function "Abradable seal" and "Larger impeller". It will make stable & more compressed air to feed.
And "Twin scroll type" turbine housing is same as mass production, so it can support a wide range of engine speed.
Wastegate actuator could be adjusted with using "turnbuckle adjuster".
Precise machined aluminum forged big compressor wheel
The appropriate shaped larger compressor shroud adopts an abrade-able seal structure that further improves charging efficiency.
Turnbuckle adjustable wastegate actuator
Bolt-on Installation
Gaskets are excluded
Engine and peripheral parts modifications will be needed to soup up the performance more.
Installation:

BOLT-ON

Recommend for racing vehicle:

Inlet & Exhaust Upgrade
Applicable model :
VF49 adopted model
[SUBARU GENUINE P/N: 14411AA690]
SUBARU WRX STI
GRB & GVB (Except "Spec C", "R205", "S206")/ VAB (Except "S20#", "RA-R")
S. spec : 9F003
P/N : F56CAC-SP017
---
Turbo model
Assumed Max Power
Compressor Wheel
Turbine Wheel
In Dia (mm)
Ex Dia (mm)
In Dia (mm)
Ex Dia (mm)
OEM Turbo
-
46.5
60
53
48
IHI Turbo Performance
up to 400 ps
49.6
65
53
48
Assumed MAX Power : Approximates value from the maximum air volume of the compressor
OUTPUT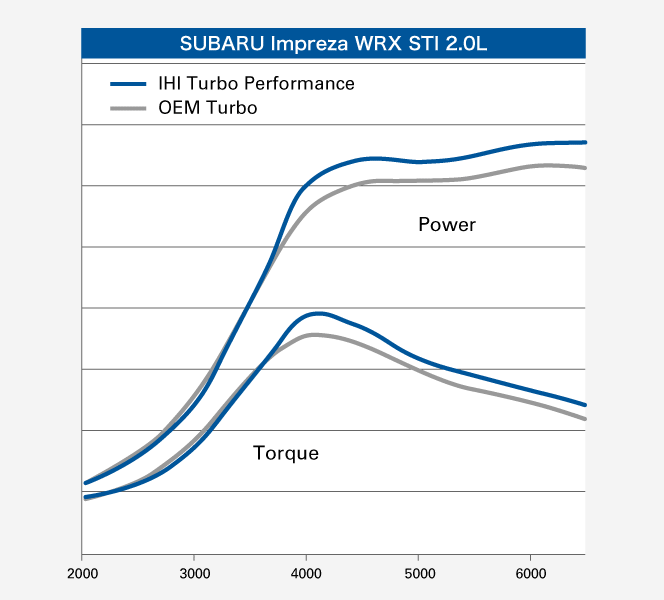 TEST CAR
WRX STI (VAB)
ENGINE
EJ20 (2.0L)
ECU
FLASH REPROGRAMED STOCK UNIT
FUEL SYSTEM
STOCK
IGNITION SYSTEM
STOCK
MODIFICATION
HEADER & EXHAUST SYSTEM (Low and mid speed emphasized type), AIR FILTER, BOOST CONTROLLER, etc.
Note
The results are an example. The output is not guaranteed.
ADJUSTMENT
1. Actuator
If the turbocharger unit which you select has the adjustable turn-buckle actuator, please use precise boost gauge and assure to fasten the nuts of the turn-buckle function when adjust it.
2. Boost pressure control
To control boost pressure, aftermarket boost controller is necessary separately.
In case of racing use:
If actual boost pressure will be increased much enough, although using boost controller, it caused by exhaust gas flow volume is exceeding wastegate capacity, and must keep back pressure with using smaller size exhaust pipes or must prepare additional wastegate function to fix it.
3. Engine control parameters
If the car is recommended to use regular gasoline originally, please feed premium gasoline when adjust ignition timing and so on to avoid engine blow caused by knock.
NOTE
When attach this turbocharger, the car might be prohibited by car regulation depends on peripheral modification spec.
This products aiming to make engine high performance and might make low durability.
IHI Turbo do not take any responsibility or liability for any damage or loss caused through using the product.
Installation instruction manual for each products is not included the products. Installation of the product should be performed by a person with appropriate qualifications and knowledge with follow the method described in the vehicle's service manual.
The information posted on this web page is subject to change without notice.
CONTACT US
Any inquiries and orders, please contact our local distributors.