Level Crossing Obstacle Detection System
To date, over 1,700 units world wide of IHI's 3D Laser Radar are actively contributing to the prevention and reduction of accidents at railroad level-crossings.
Due to its accurate real-time detection capabilities and resistance to harsh environmental conditions, the SIL 4 * certificated 3DLR is a highly reliable safety solution for the railroad level-crossing market.
* Safety integration level (SIL) is a measurement of the performance of a safety system required for a safety integrity function. SIL is classified in four levels (1 to 4) defined by the international IEC 61508 standard, with SIL 4 representing the highest level of dependability and SIL 1the least.
Product overview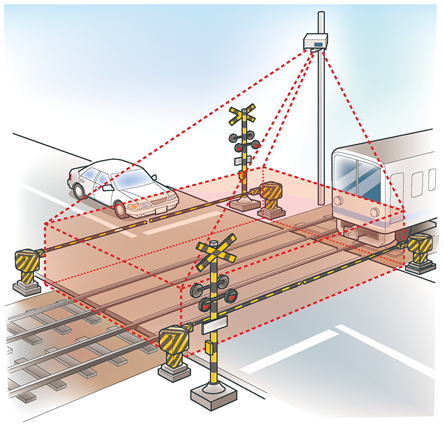 The 3D Laser Radar is installed as a Level Crossing Obstacle Detection System for the purpose of detecting the presence of objects (vehicles etc.) if and when they are trapped within a closed level crossing.

The train operator is notified of the presence of any objects that are calculated to be a target of detection so that the potential collision can be averted.
The 3D Laser Radar is also able to accurately detect multiple obstacles simultaneously in real-time regardless of its surrounding environment's lighting and weather conditions.
Features
Resistance to harsh environmental conditions
Due to its unique noise elimination method, the 3D Laser Radar's performance is unaffected by its environment's lighting and weather conditions including heavy rain and snowfall.
Easy and unobstructive installation
Due to the 3D Laser Radar being installed outside of the rail-way track clearance area obstruction to the surrounding area and train schedule is kept to a minimum.
Easy and flexible system set-up and re-configuration
Desired changes to the monitoring area, e.g. due to a change in track placement, are easily achieved by simply adjusting the area's parameters settings in the 3D Laser Radar's software. No re-installation or adjustment of the 3D Laser Radar hardware is required.
Capable of covering large monitoring areas with one system
One 3D Laser Radar system can cover an area of distance 5~30m from the head with maximum horizontal angle 60°and maximum vertical angle 30°. In most cases, this capability allows the entire desired monitoring area to be covered by one 3D Laser Radar system reducing the overall cost caused by multiple installations.
No interference to surrounding electronic systems
Due to its use of laser light rather than radio waves the 3D Laser Radar doesn't affect other electronic systems in its vicinity.
Business Experience
In total, over 1,700 3D Laser Radar systems have been delivered world-wide to customers in Japan, Italy, France since the first installment in 2006 (as of September 2017).
Of this, 1,600 systems have been installed domestically at Japanese level-crossings (as of September 2017).
Product Specification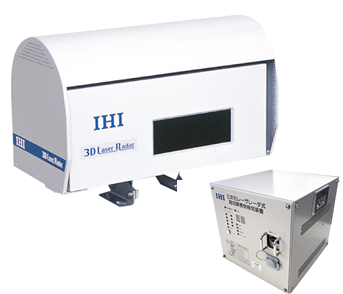 Item
Specification
Measurement field angle
Horizontal
Max 60°
Vertical
Max 30°
Measurement distance range
5~30 m
Sensor type
Laser
IEC60825-1 Class 1
JIS C 6802 Class1 1
Measurement items
(1)Reflection intensity, (2)Distance
Equipment Size
Head
W570 x H336 x D300(mm)
Controller
W270 x H250x D280 (mm)