Intelligent Transport Systems(ITS) Equipment
By instantaneously detecting the size, speed and direction of moving objects such as vehicles and pedestrians the 3D Laser Radar contributes to the enhancement of road and traffic safety at locations such as intersections and bind spots.
Features
Capable of covering large monitoring areas with one system
One 3D Laser Radar system can cover an area of distance 10~200m from the head with maximum horizontal angle 90°and maximum vertical angle 60. In most cases, this capability allows the entire desired monitoring area to be covered by one 3D Laser Radar system reducing the overall cost caused by multiple installations.
Resistance to harsh environmental conditions
Due to its unique noise elimination algorithm, the 3D Laser Radar's performance is unaffected by its environment's lighting and weather conditions including heavy rain and snowfall.
No interference to surrounding electronic systems
Due to its use of laser light rather than radio waves the 3D Laser Radar doesn't affect other electronic systems in its vicinity.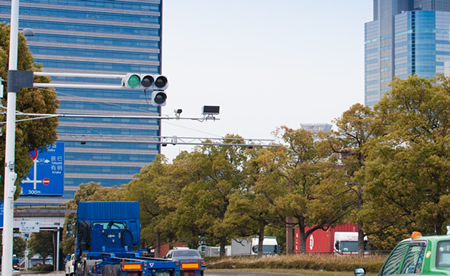 Product Overview
1. At an road intersection
DSSS: Driving Safety Support System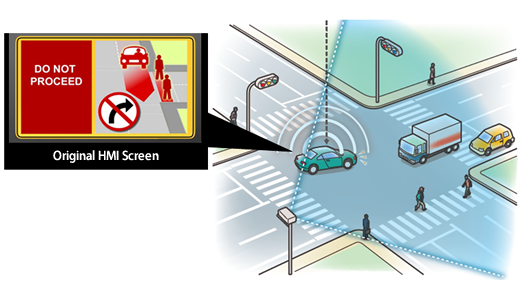 A 3D Laser Radar system installed at an intersection is capable of detecting surrounding and oncoming vehicles and pedestrians at the point the vehicle proceeds to make a right turn and an obstacle has the potential to cross into its path of direction.
At this point, a warning message is relayed to the driver via an onboard screen in real time to aid the driver's awareness of their surroundings.
In Japan, 3D Laser Radar is currently adopted as this application by ITS Connect which is promoted by the Japanese ITS committee.
2. On the Highway
Multiple Vehicle Accident Prevention System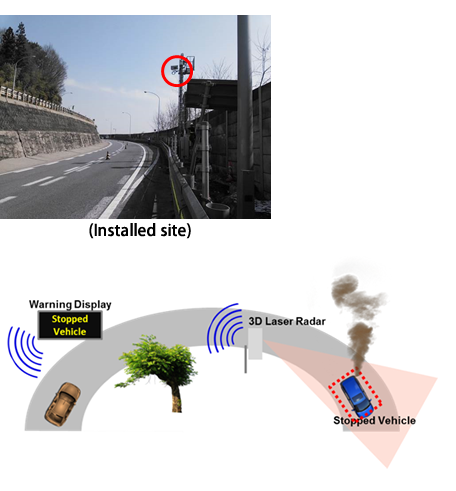 3D Laser Radar detects parked or slow moving vehicles at the point of accident prone stretch of curved road with poor visibility.
The Information of parked vehicles detected by 3D Laser Radar is delivered to approaching cars via a Warning Display and the approaching cars can avoid collisions.
Product Specification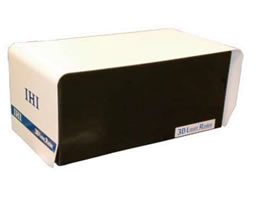 Item
Specification
Measurement field angle
Horizontal
Max 90°
Vertical
Max 60°
Measurement distance range
10~200 m
Sensor type
Laser
IEC60825-1 Class 1
JIS C 6802 Class1 1
Measurement items
(1)Reflection intensity, (2)Distance
Equipment Size
Head
W569 x H274 x D340(mm)
Controller
W360 x H700x D207 (mm)