Bridges
IHI has constructed numerous major bridges worldwide. Included are the Seto Ohashi Bridges and the Akashi Strait Bridge in Japan, the Second Bosporus Bridge and the Golden Horn Bridge in Turkey, the Carquinez Bridge in the United States, and the Binh Bridge and the Nhat Tan Bridge in Vietnam.
---
Bridges
Suspension Bridge "Osman Gazi Bridge"
At 2,682 meters long and a center span of 1,550 meters, the Osman Gazi Bridge is the fourth longest suspension bridge in the world and has become the longest suspension bridge IHI has built overseas. IHI Group undertook the entire construction of the bridge as the single contractor and completed and opened it for traffic in June 2016.
Suspension bridge "Akashi Strait Bridge"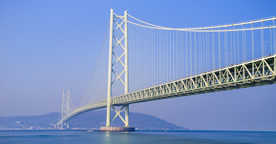 IHI fabricated and erected the main towers and girders for the Akashi Strait Bridge, the world's longest suspension bridge with total length of 3,911 m and center span of 1,991 m.
Suspension bridge "Carquinez Bridge"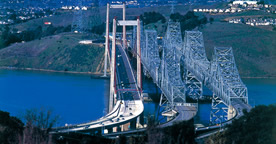 In March 2000, IHI received an order from an American joint venture company (JV) for over 10,000 metric tons of orthotropic box girders for the New Carquinez Bridge in the suburbs of San Francisco, California. This is the first long-span suspension bridge in U.S.A. in 40 years. IHI fabricated the girder at Aichi Works, and completed the delivery in March 2003.
 The bridge was opened to traffic in November 2003.
Suspension bridge "Irtysh River Bridge"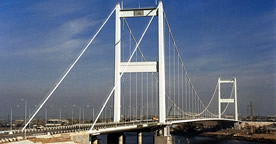 As the sole prime contractor for the Irtysh River Bridge, the longest steel suspension bridge in the former Soviet Union (total length: 1,086 m center span: 750 m), IHI completed the project 13 months ahead of schedule.
Cable-stayed bridge "Nhat Tan Bridge"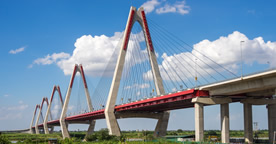 The total length 3,080-meter Nhat Tan Bridge in Hanoi, Vietnam, is a rare 6 span continuous cable-stayed bridge. IHI Group received the order for engineering, procurement and construction on the superstructure . The bridge was completed and opened to traffic in December 2014.
Cable-stayed bridge "Binh Bridge"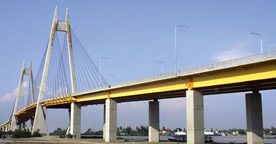 This is 17 spans continuos bridge, including a cable-stayed bridge with its length of 1,280m, in Haiphong, Vietnam. IHI constructed the bridge comprehensively including roads and base construction.
Rigid-frame bridge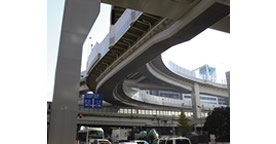 This is the common structure in city highways that combines piers and beams. The photo shows Nishi Shinjuku Junction of Metropolitan Expressway, which is typical bridge with complex structure in city area junctions.
Girder bridge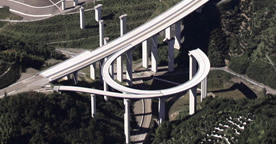 This is a structural form, aiming for reducitonof construction cost, consists of main girders and floor slabs to support roads. The photo shows Isabu Interchange in Shizuoka City that consists of continuous composite plate girder bridges and continuous box girder bridges placed on the connection road between Tomei Expressway and New Tomei Expressway.
Pedestrian bridge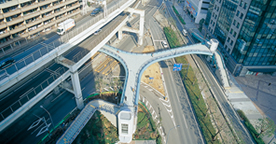 Our pedestrian bridges can fulfil a function as regional landmarks designed to blend in with urban landscapes.
Links
Inquiries for Products
Contact
Other Products