Composite Slabs
Channel beam composite floor system
The channel beam composite deck is a floor system made of concrete and steel by combining concrete with steel plates consisting of channels welded along the span direction using stud dowels.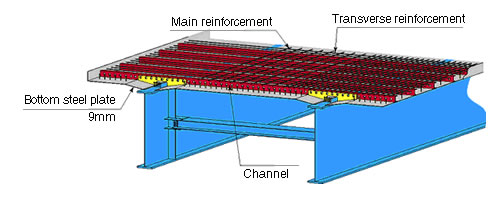 Features of the channel beam composite deck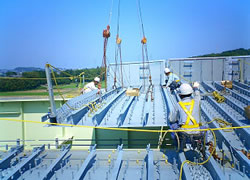 Installation of a composite floor panel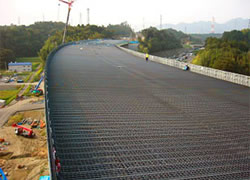 After the reinforcement arrangement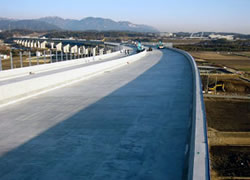 After the concrete placement (complete)
The channel beam composite floor system has the following features:
Suitable for longer span
By selecting the sectional dimension of the channel steel to be used for the composite deck, a longer span can be installed for this floor system.
This is ideal for two-Girder Bridge s, and also applicable for future widening.
Safe construction
The pre-fabricated structure with bottom steel plates ensures safe construction. No work underneath the girders is required during the erection work, as panels are attached by single friction joining, which can be performed from only upper-side of the girders, or the tensile bolt joint structure in the upper surface of the bottom plate.
Labor-saving
As the steel panels are fabricated at plants, the only on-site work is the erection of the panels, assembly of rebars and concrete casting. The number of on-site erection processes is drastically reduced by eliminating the formwork and timbering.
Fatigue durability
High fatigue durability has been proved via several tests, including the wheel load running test.
Performance test of the channel beam composite deck
Bearing capacity and fatigue durability are verified by performing bending tests, bending fatigue tests, wheel load running tests, and others onto a model slab that has equivalent thickness to an actual bridge with a floor span of 6 m.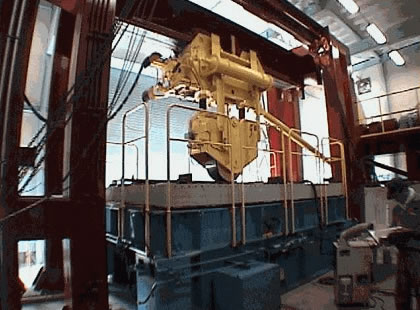 Wheel load running test
(Corporate Research & Development, IHI Corporation)
Other Products