Flexible engineering
We offer highly flexible engineering which is optimized and customized for the customer needs.
Ability to handle 2 gases with 1 compressor
One of IHI centrifugal compressor can handle two gases by our state of the art technologies. This combined type of compressors allows space savings and the lowest life cycle cost.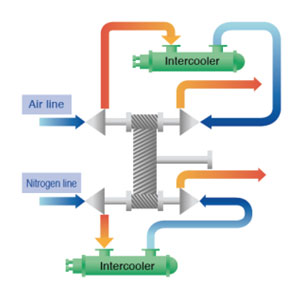 [Example of air and nitrogen processes (2 stage compression)]
For High pressure application
We offer customized compressors with up to six highly-efficient open impellers for high pressure application.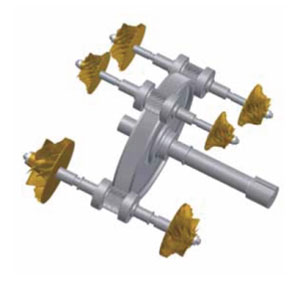 Reliability
Reliability by state of the art IHI Technologies
ISO 8573-1 certified 100% oil free compressor (Class zero)
High level rotating machinery technologies of IHI that is similarly used to manufacture jet engines and turbo chargers
Low maintenance with highly durable key parts developed by IHI's own technologies
Highly reliable gas seal and robust structure designed based on our experiences and performances over the years with customer safety as our top priority
Highly stable shaft performance- rotor dynamics analysis for rotational and torsional vibrations ensures high safety and reliability.
Reliability by experience and reference
More than 120 years of experience in compression
Proven track records including leading global major companies
Manufactured in Japan quality