DU-WinGD 2-Stroke Diesel Engines
As the 2-stroke engine, DU-WinGD type diesel engines are running successfully as the prime mover of marine transportation, such as, large oil tankers, container ships, bulk carriers.
The RT-flex and X engines, widely applied presently, have common-rail systems with the electronic fuel injection control system and high operating flexibility to adapt to various engine running conditions and regulation of NOx emission. These engines with the electronic control will be the main stream of the large 2-stroke marine engine.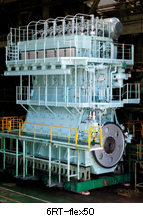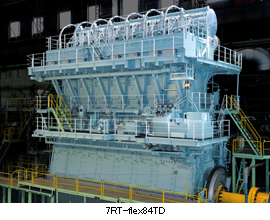 Power range for low-speed diesel engines
Our line up ranges in output from 2,450kw to 77,400kw in accordance with various vessels.