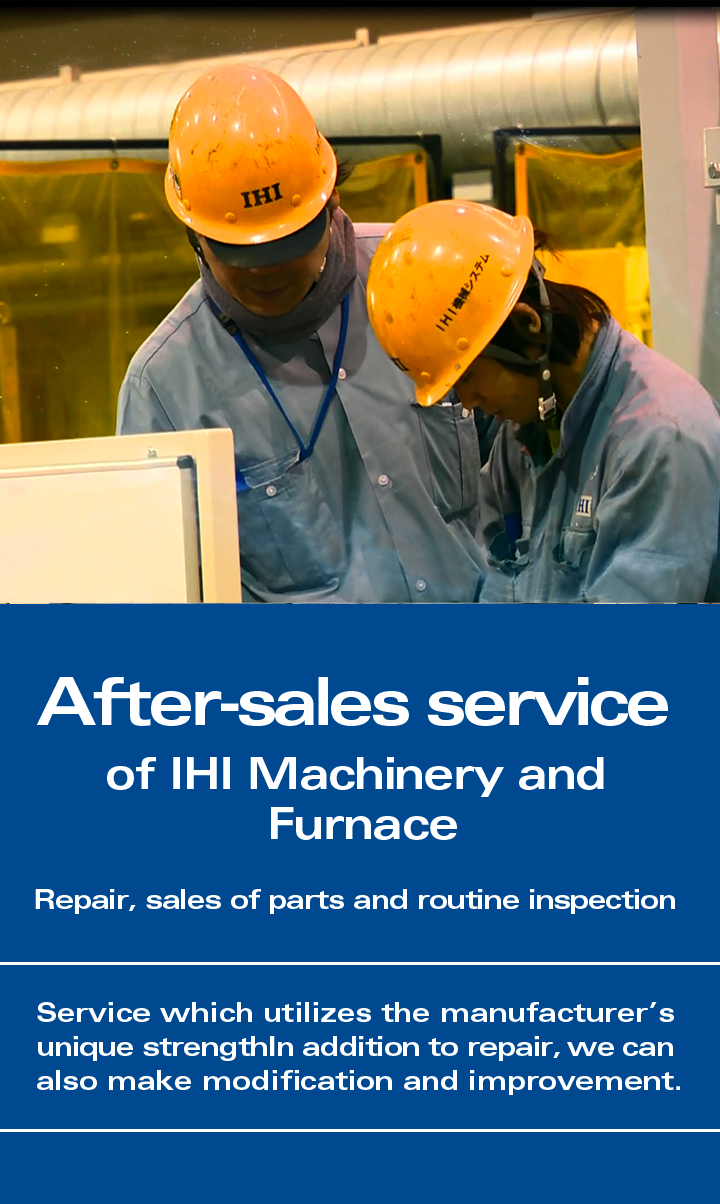 After-sales service structure
Routine inspection menu which utilizes the manufacturer's unique know-how.
We provide our customers with a tailored service.
A Meister System has been implemented so that everyone can take up the challenge to acquire a license.
The number of servicemen has been greatly increased and we aim to provide a speedy service.

* Regarding the Meister System
We train specialist service engineers in order to provide a high quality maintenance service.
Service center
At present we have a 60 strong team providing support.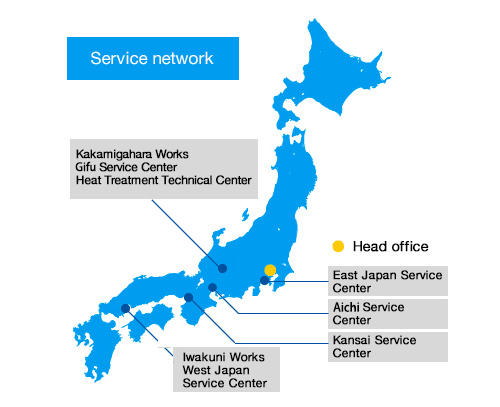 East Japan Service Center
1 Shin-nakahara-cho, Isogo-ku, Yokohama-shi, Kanagawa, Japan 235-8501
TEL: +81-45-759-2162
FAX: +81-45-759-2165
East Japan Service Center Motomiya Works
60-10 Emukai, Arai-aza, Motomiya-shi, Fukushima, Japan 969-1104
TEL: +81-243-36-1070
FAX: +81-243-36-1070
Kakamigahara Works / Central Japan Service Center Heat Treatment Technical Center
2-14 TechnoPlaza, Kakamigahara-shi, Gifu, Japan 509-0109
TEL: +81-58-322-8600
FAX: +81-58-322-8770
Kansai Service Center
801 Amagasaki Daiichi Bldg., 24 Misono-cho, Amagasaki-shi, Hyogo, Japan 660-0861
TEL: +81-6-6430-0383
FAX: +81-6-6430-0384
Iwakuni Works / West Japan Service Center
2-1 Hinode-machi, Iwakuni-shi, Yamaguchi, Japan 740-0014
TEL: +81-827-22-8697
FAX: +81-827-22-7557
Thailand, China, Europe (being prepared)
As a manufacturer of hear-treating furnaces we continue to engage in new challenges.