First IHI DOT shield machine overseas Excavation of Shanghai subway tunnel No.1 section completed
A Double O Tube type (DOT) shield tunneling machine, built by Ishikawajima-Harima Heavy Industries Co., Ltd. (IHI), has been applied to the excavation of a subway tunnel, Line M 8, in Shanghai, China, and has successfully completed the No. 1 construction section of one km length. The Japanese DOT machine has never been used for double-tube excavation overseas before.

The DOT tunneling method has been developed in Japan to make tunneling work more economical and efficient. Compared with a single tube-tunneling machine, the DOT method can reduce the aerial ratio of the cross section and the construction period. If a single tube shield machine is used for the double tubes, a longer construction period is required, because two tubes must be excavated separately. Shanghai Tunnel Engineering Co., Ltd. (STE), a leading construction company in Shanghai, has highly evaluated these advantages and employed the DOT method for the subway construction.

IHI and Chuwa Bussan Co., Ltd. of Japan jointly received an order for the DOT shield machine used for the No. 1 construction section from STE in May 2002, and a joint venture company established by STE and Daiho Corporation of Japan started excavation in August 2003.

IHI and Chuwa Bussan have received three more orders for DOTs from Shanghai Metro Shield Machine Equipment & Engineering Co., Ltd., Shanghai No. 2 Municipal Engineering Co., Ltd., and Shanghai Foundation Engineering Co. Ltd., in April 2003. These machines will be used for excavation of the Shanghai Subway L No. 4 line. The construction section is located in Shanghai, measuring 10.5km in length. Three DOT machines will start operation in April and May this year. The IHI DOT machines are expected to be widely used in China.

IHI first developed the DOT prototype machine in 1988, and completed the first practical machine in 1991. Since then, 18 DOT machines have been constructed in Japan (13 units for domestic use and five units for Shanghai), and IHI has built 12 units (including those for domestic use) of these 18 units. Besides the DOT machines, IHI has delivered two ordinary shield machines used for sewer tunnels and one for a subway tunnel in Beijing, China.

IHI will continue to market the shield tunneling machines in China, where city traffic networks including subway construction will be rapidly improved for the development associated with the Beijing Olympic Games to be held in 2008 and the Shanghai World Exposition in 2010.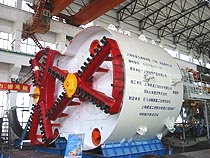 First IHI DOT shield machine overseas