Sustainability Management
In "Group Management Policy 2019", the IHI Group defined our approach as one that adapts to changes in the social environment from long-term perspectives. "Project Change" incorporates the basic concept of the Group Management Policy to tackle social issues and issues of our customers directly, ultimately realizing our goal.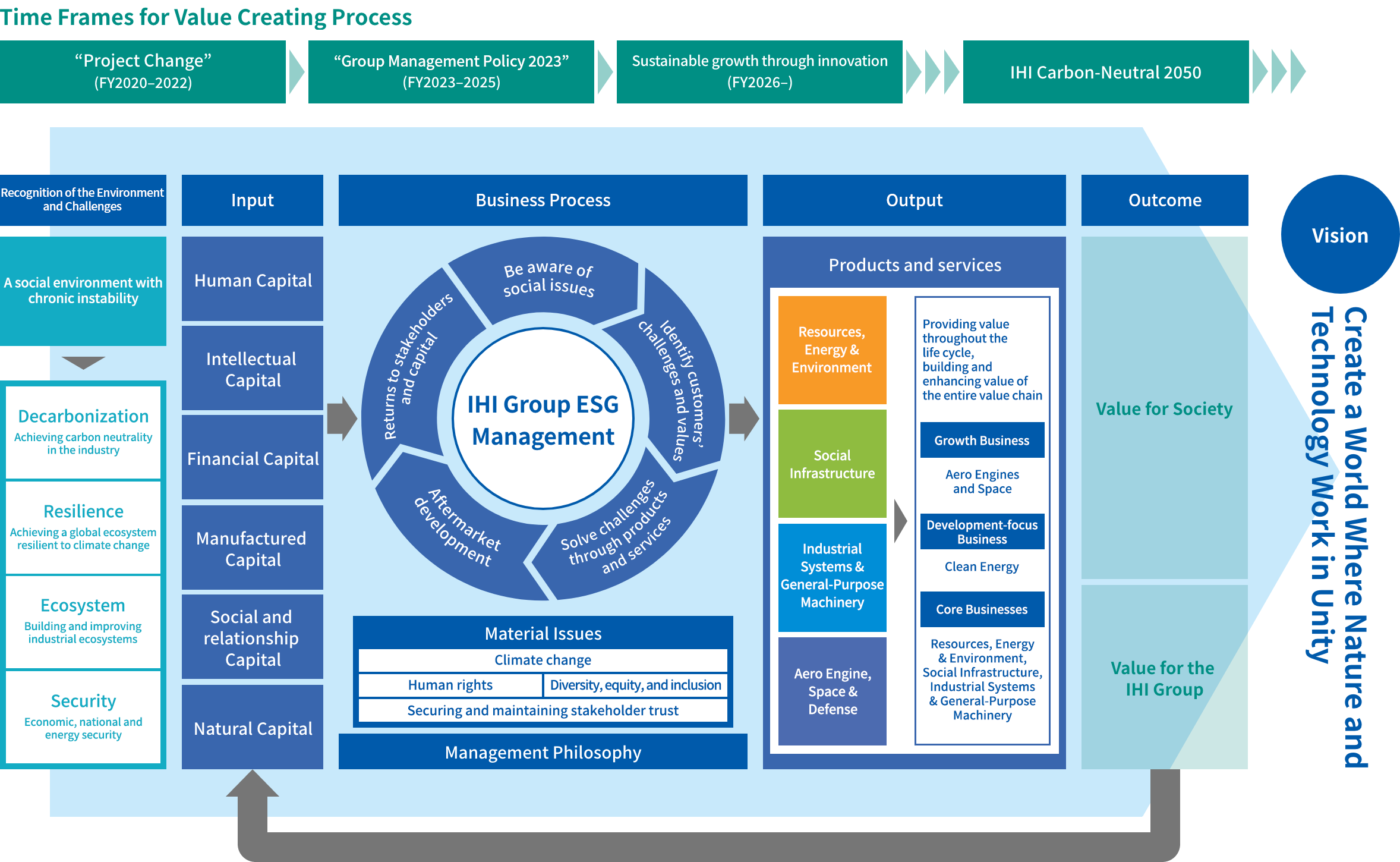 Material Issues
The IHI Group has identified material issues to be prioritized to achieve sustainable growth as a company and realize a sustainable society.
As part of Project Change, formulated in 2020, we are striving to create "a world where nature and technology work in unity" in the near future. By setting this goal, the social issues we need to address along with the values we aim to provide have been clarified. We re-identified and revised our material issues according to the significance of each of the social issues to address with the goals of becoming carbon-free, disaster prevention and mitigation, and materializing fulfilling lifestyles.
In ESG management, greater importance is placed on engaging in efforts to combat the global challenge of climate change, respecting the human rights of everyone involved in our businesses, empowering diverse human resources as the driving force of value creation, and earning trust from stakeholders through integrity management.
Particularly Important Issues of ESG Management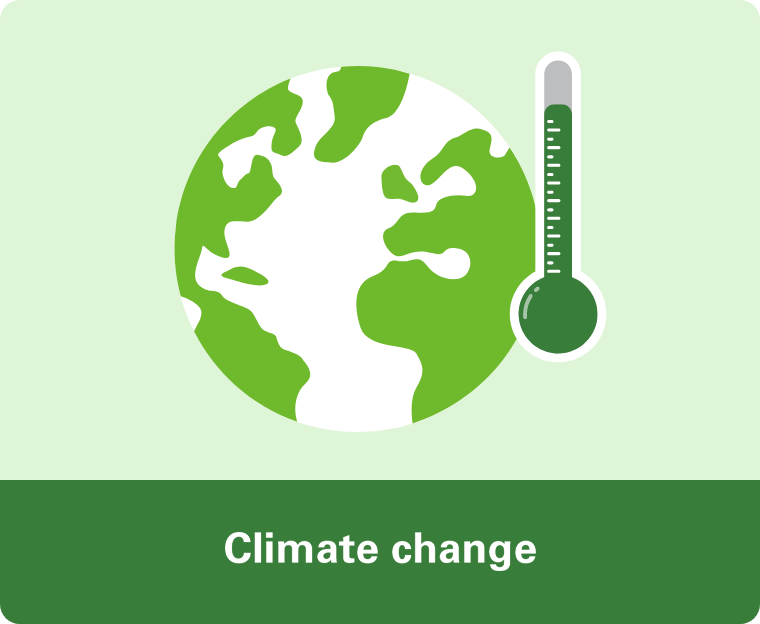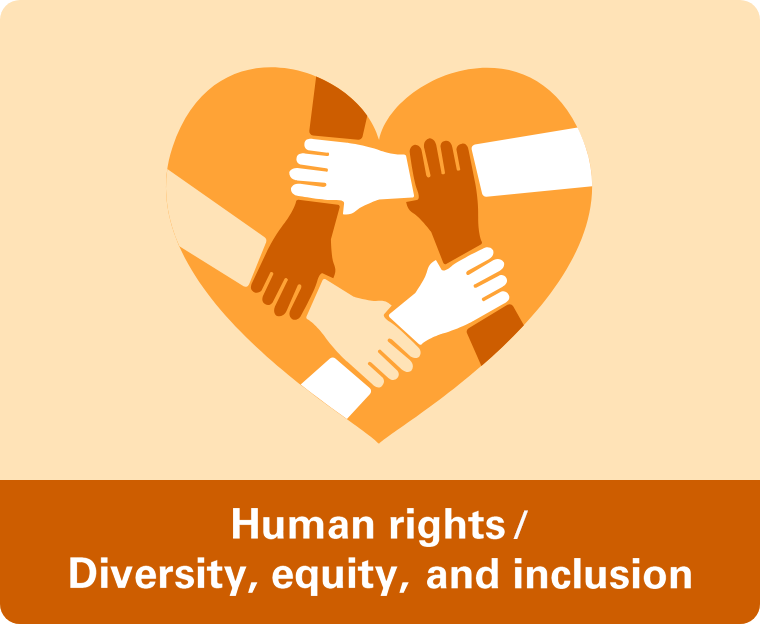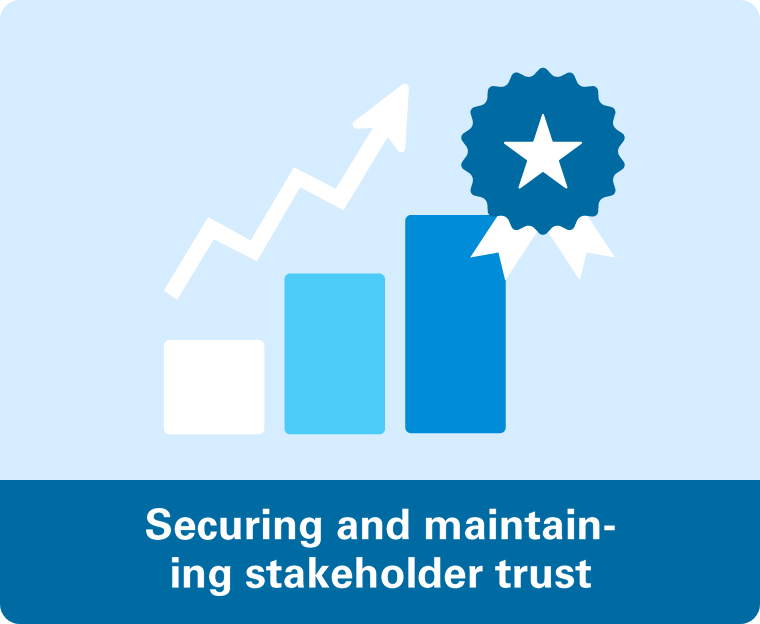 Identification Process of Material Issues
The IHI Group identifies material issues through the following process in an effort to achieve a sustainable society and sustainable Group growth.

Extract issues

Social issues, recognized worldwide, are extracted


Confirm the conformity of social issues

Each social issue extracted in Step1 is verified regarding its conformity to internal corporate policies and/or other unique company traits


Identify material issues

Considering Step1 and Step2, a total of 16 material issues have been identified.
IHI Group Material Issues and Goals
Environment
―Reduce Environmental Impact―
Climate change
Circular economy
Conservation of the global environment
Social
―Materialize an Affluent Society―
Human rights
Customer relationships
Diversity, equity, and inclusion
Occupational health and safety
Supply chain management
Corporate citizenship
Work-style and operational process reforms
Governance
―Corporate Management―
Corporate governance
Compliance
Risk management
Information security
Timely and proper disclosure
Innovation management
Basic Code of Conduct for the IHI Group
The IHI Group knows that living up to the expectations of stakeholders and earning their trust is vital to drive the sustainable growth of both customers and society.
The Basic Code of Conduct for the IHI Group defines the practices necessary to embody this belief.