IHI Awarded EPC of Two LNG Tanks in Dahej LNG Terminal, India
IHI has been awarded an EPC (Engineering, Procurement and Construction) contract to construct two (2) of India's Largest LNG Storage Tanks at Dahej LNG Terminal in State of Gujarat, by Petronet LNG Limited (PLL). The two tanks will each have a net storage capacity of 170,000m3. The construction is scheduled to be completed in 2016.
IHI has already completed four (4) 148,000m3 LNG storage tanks at Dahej LNG Terminal and two (2) 155,000m3 LNG storage tanks at Kochi LNG Terminal in State of Kerala, for PLL. In this winter, IHI has been awarded an EPC contract of two (2) LNG storage tanks by GSPC LNG Limited. By this continuous award of EPC contract, IHI's share of LNG storage tanks in India will be more than seventy (70) percent.
Demand for LNG is constantly growing worldwide, with India playing a major role in the total increase in LNG demands. Plans for several LNG terminals are currently under development in India to fulfill the vast demand of energy.
As a pioneer in the LNG business, IHI has over 130 construction experience worldwide in LNG storage tanks projects, since it constructed the first LNG storage tank in Japan. For further contribution to the global energy supplies, IHI will keep expanding its incomparable achievement under the growing demand for LNG.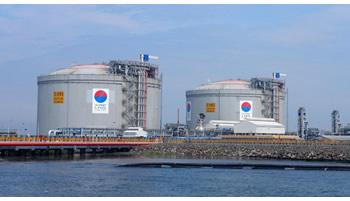 LNG storage tanks in Kochi LNG Terminal, completed in 2012.