Industrial Systems and General-purpose
IHI, Group Company, and U.S. Startup Jointly Develop World's First Automatic Expiration Date Reading System for Food Shipping Cases - New system leverages AI to recognize print patterns and boost productivity, reduce manpower, and cut food waste -
IHI Corporation and Group company IHI Logistics & Machinery Corporation announced today that they and American startup enterprise Neurala, Inc., have jointly developed the world's first system to automatically read the expiration dates of food in cardboard shipping cases while conveyed into and out of warehouses. This new inspection setup employs Neurala's deep learning-based character recognition technology.
Warehouse workers normally input expiration dates to manage incoming and outgoing inventory. Labor shortages have made it difficult, however, to secure enough people. Another challenge is rising social pressure to bolster inventory management and enhance food safety while reducing food losses.
These considerations prompted IHI and IHI Logistics & Machinery to join forces in 2019 with Neurala, which develops technology centered on AI-based image recognition, to undertake R&D into ways to instantly and automatically recognize expiration dates printed on case sides.
The system they created photographs the sides of cases moving along conveyor lines and uses AI-based character recognition technology to read various print patterns and detect expiration dates. The system conducts a comprehensive assessment based on the readings, factoring in product, customer, and other attributes, and registers the results as date data in warehouse management systems.
Linking barcode information and case size, weight, and other measurements enables the system to centrally manage all food information, including expiration dates. This system can significantly streamline what are traditionally manual receiving and shipping inspections and lower labor needs while enhancing inventory management by reducing incorrect shipments from date input errors and cutting disposals of food past their expiration dates.
IHI Logistics & Machinery is trialing the system at several customer sites and will continue to improve performance with a view to gradual preliminary rollouts and commercial sales to customers overall. IHI and IHI Logistics & Machinery will continue offering comprehensive logistics solutions through this and other information systems for goods inspection, inventory management, and sorting, as well as through automated and labor-saving equipment that integrates robots and automated warehouse systems.
System features
Can read cases without stopping conveyor lines and can be operated like a stationary barcode reader
Can automatically read expiration dates however and wherever printed on case sides
The system aggregates unreadable text as samples and conducts additional AI training and releases regular updates
Imports functions to supplement AI readings (for example, to determine if these readings results deviate from expiration date trends for previous shipments)
System setup
Conveyer line

:

Can be installed on existing or new lines

PC

:

AI application for reading expiration dates installed and
linked to inspection system

Camera and lighting

:

Best equipment for capturing images of case sides
chosen according to customer operating environments

Barcode reader

:

Links expiration date readings with products

Profile of Neurala, Inc.
This Boston, Massachusetts-based company started out in 2006 to offer AI-assisted visual inspection solutions. Its Brain Builder cloud-based solution enables rapid AI prototyping.
Representative: Dr. Massimiliano Versace, co-founder and CEO
Website: https://www.neurala.com/
New system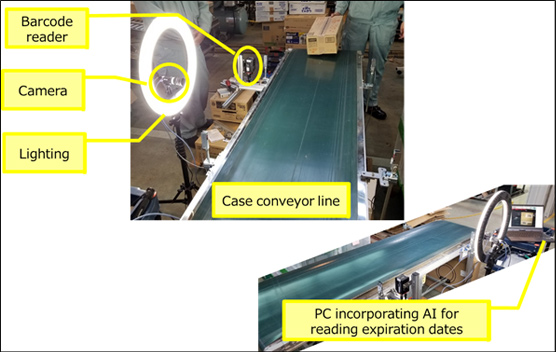 Reading expiration date with new system

Incoming goods inspections before and after using system