Supplying bio-jet fuel produced from microalgae to regular domestic flights
IHI Corporation (Location: Koto-ku, Tokyo, President: Hiroshi Ide, hereafter "IHI") IHI has now supplied bio-jet fuel produced from microalgae as a sustainable alternative aviation fuel (hereinafter referred to as "SAF" * 1 ) to regular domestic flights.
This fuel has developed by the commissioned business of the National Research and Development Corporation New Energy and Industrial Technology Development Organization * 2 (hereinafter "NEDO").
It conforms to the international standard "ASTM D7566 Annex 7" * 3  for bio-jet fuel, which was applied for and acquired by IHI in May 2020.
1.Overview
Among the global greenhouse gas reduction activities, ICAO (International Civil Aviation Organization of the United Nations), which is in charge of reducing CO2 emissions from the international aviation sector, has established targets to control the increase in CO2 emissions. The social implementation of technologies to reduce CO2 emissions related to air transportation, including the production of renewable alternative aviation fuels, is an urgent issue.

IHI is working on a next-generation technology development of mass-production process of microalgae, Hyper-Growth Botryococcus Braunii (HGBb) * 4, and fuel manufacturing process of algal oil produced by the microalgae.

In the NEDO project, which started in fiscal 2017, we worked to establish integrated manufacturing technology from large-scale culture to SAF production using the facility in Kagoshima City, Kagoshima Prefecture, and the pilot outdoor culture facility in Saraburi Province, Thailand ,and acquired the approval of this bio-jet fuel in the international standard ASTM D7566 Annex 7.

Based on these results, we have supplied the SAF to regular flights departing from Tokyo International Airport (Haneda Airport, Ota-ku, Tokyo).
This is the first flight of an aircraft equipped with fuel based on the "ASTM D7566 Annex 7" .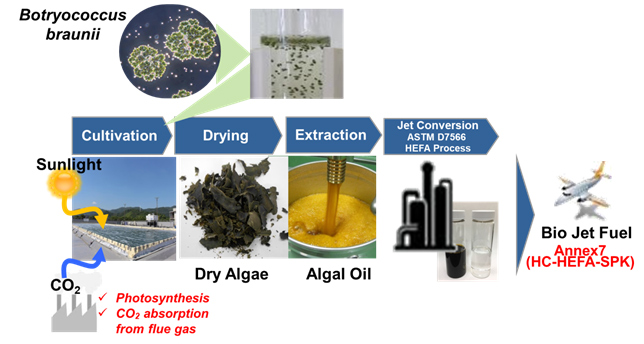 Process of Bio Jet Fuel Production
2.About Flights
(1)Date 

:

June 17,2021

   Flight No.

:

JL515

   Route

:

Tokyo(Haneda) to Sin-Chitose

   Equipment

:

Airbus A350-900
Simultaneous loading of SAF derived from microalgae and SAF derived from woody biomass
(2)Date

:

June 17,2021

   Flight No.

:

NH031

   Route

:

Tokyo(Haneda) to Osaka(Itami)

   Equipment

:

Bowing 787-8
First flight with fuel conforming to ASTM D7566 Annex 7
3.Future Plan
IHI will continue to consider building a supply chain for fuel production and supply of bio-jet fuel toward the realization of carbon neutrality in 2050. Furthermore, we will promote technological development aimed for reducing greenhouse gas emissions such as CO2 in the aviation field.
*1

SAF

Sustainable Aviation Fuel

Neat bio-jet fuel compliant with ASTM D7566 and fossil jet fuel compliant with ASTM D1655 * 5 are mixed and used in a specified ratio.

*2

NEDO Project

Project name
Development of Production Technologies for Bio jet fuels / Pilot scale test on once through production process

Project participant
IHI (FY2017-FY2021)
National University Corporation Kobe University (FY2017-FY2018 period)

*3

ASTM D7566
Standard for alternative jet fuel for aviation defined by ASTM International. Annex7 defines a liquid hydrocarbon fuel obtained by hydrogenating crude oil (mainly hydrocarbon) extracted from the microalga Botryococcus braunii. IHI independently applied for the standard to ASTM and it was approved in May 2020.

*4

HGBb:Hyper-Growth Botryococcus braunii 
Oily microalgae that has been improved to improve the culture rate.
It is owned by GGT Corporation. (Location: Ibaraki-city, Osaka, President: Taira Enomoto)

*5

ASTM D1655
Standard for aviation jet fuel defined by ASTM International.