IHI Delivers its First Methanation Unit to Asahi Group Facility to Test Methane Production with Recovered CO₂ and Hydrogen for Carbon Recycling
IHI Corporation announced today that it has completed its first methanation system delivery. The recipient is Asahi Quality and Innovations, Ltd. This is an independent research subsidiary of the Asahi Group Holdings, Ltd., a leading Japanese alcoholic and non-alcoholic beverages and food business. The system produces methane from carbon dioxide (CO₂) and hydrogen. The system is installed at the Asahi Group Research and Development Center in Moriya, Ibaraki Prefecture. This will be the first such setup among Japanese food manufacturers to conduct methanation demonstration tests, using CO₂ collected at the center with a view to recycling carbon at Asahi Group plants.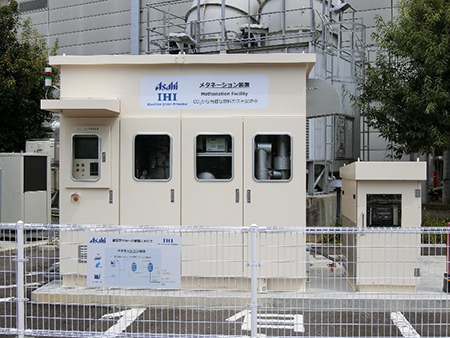 Methanation system installed at Asahi Group Research and Development Center
The Japanese government has committed the nation to reaching carbon neutrality by 2050. Methanation technology should contribute significantly to attaining that goal by synthesizing fuel from CO₂. Methane is the main component of city gas. Methanation could help cut CO₂ emissions across city gas service areas by using such existing infrastructure as pipes and gas ranges. Methane synthesized from plant CO₂ emissions could become an alternative to natural gas, helping to make such production facilities carbon-neutral.

IHI has developed high-performance, long-life catalysts over the years. It has also created a methanation system that controls heat from methanation reactions, employing petrochemical and other reactor design technology for efficiency. In 2018, IHI installed a demonstration unit at a Singaporean research institute with which it is collaborating. In 2019, the company set up a bench-scale test unit at its Yokohama Works to confirm catalyst performance. In fiscal 2020, it began testing the continuous production of synthetic methane at the Soma IHI Green Energy Center in Soma, Fukushima Prefecture, which has solar power and hydrogen production facilities, confirming that the system performed well and delivered high-quality synthetic methane.

Asahi Quality and Innovations has a separation and recovery system that extracts CO₂ from boiler exhaust gas. Its methanation demonstration tests will use recovered CO₂ and hydrogen produced by water electrolyzers. That research unit will verify system performance and methane quality through 10,000 hours of testing and assess prospects for carbon recycling within the Asahi Group, including to fuel its plants.

IHI will consider scaling up its methanation system and develop technology to produce CO₂-derived olefin, a raw material for synthetic resins and plastics. The company also looks to help materialize a carbon-neutral economy by developing applications for ammonia fuel and other technologies for eliminating CO₂.

[Reference]
Methanation synthesis flow and delivery scope