IHI Starts Developing Large Ammonia Receiving Terminal to Help Establish Large Ammonia Supply Chain
IHI Corporation announced today that it has begun developing a large ammonia receiving terminal (see note 1) to bolster its ammonia receiving and storage technologies and establish an infrastructure to swiftly, efficiently, and economically handle large volumes of imported ammonia (see note 2).
Establishing an ammonia supply chain is vital to ensure the widespread adoption of this compound as a fuel. IHI embarked on this initiative in view of limited current uses of ammonia and an inadequate receiving and storage infrastructure. The company looks to lift capacity at its receiving facility to that of a liquefied natural gas (LNG) receiving terminal. IHI aims to complete development in around 2025.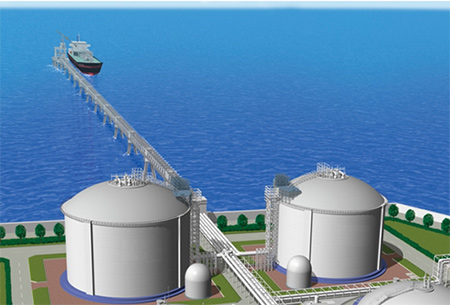 Computer-generated image of large ammonia receiving terminal
Hopes are rising for tapping ammonia as a thermal power fuel to help Japan reach the government's goal of carbon neutrality by 2050. In June 2021, the Cabinet approved the Green Growth Strategy Through Achieving Carbon Neutrality in 2050, which projects that domestic demand for ammonia will rocket 30 times the current level, to 30 million metric tons of ammonia annually, by that year. Ammonia is a well known raw material for fertilizers and chemical products, but availability is limited. A distribution system similar to that of LNG will likely be necessary to match future fuel needs.

IHI's effort to develop an ammonia receiving terminal larger than any to date began with studying operational and safety design requirements in locations with prospectively heavy demand for fuel ammonia. The company is drawing on its expertise in corrosion and experimental technologies for materials so it can create a terminal that is several dozen times larger than any such setup to date. IHI has also begun developing large LNG-class ammonia storage tanks that will be vital for the terminal.

IHI is one of Japan's premier top LNG manufacturers. The company has engineered and constructed around a third of the nation's LNG receiving terminals and half of its LNG storage tanks. IHI built one of the world's biggest storage tanks, a 250,000-kiloliter facility. The company will take advantage of the technologies it has amassed in that work in developing the new terminal, including storage tanks.

IHI will keep helping to materialize a carbon-neutral economy by developing technologies to use ammonia and building a fuel ammonia supply chain to cater to future demand growth.

Notes
Receiving terminals store liquefied fuels shipped within Japan or from abroad, re-gasify them when needed, and pipe them to power plants and other consumption sites.
Ammonia is very efficient and affordable energy carrier for hydrogen because it has a high hydrogen density and is easy to handle. Ammonia is also a good direct fuel for thermal power generation. It is a common fertilizer and chemical raw material. Technologies are now in place to integrate everything from ammonia production and transportation through storage. Ammonia is carbon-free, so it could significantly to decarbonizing thermal power operations.