IHI Demonstrates World's Highest-Capacity Hydrogen Recirculation System for Aircraft Fuel Cells, Delivering Compactness and High Durability
IHI announces today that it has developed and successfully demonstrated an electric hydrogen turbo-blower, a large-capacity hydrogen recirculation unit that achieves the world's highest hydrogen circulation volume in its class. This equipment was developed for use in aircraft fuel cells, and has succeeded in achieving a large capacity by employing an ultra-high-speed motor with a proprietary gas bearing (see note 1).

This project is the fruit of collaboration with Akita University and Sanei Kikai Co., Ltd, which manufactures aircraft fuselage parts and manufacturing equipment in Akita Prefecture.

The electric hydrogen turbo-blower (see Figure 1) is equipment that collects a large amount of hydrogen containing water vapor(exhaust gas from the hydrogen supply side), which is discharged unreacted during fuel cell power generation, and recirculates it to the fuel electrode (cathode and anode).

IHI increased the hydrogen gas recirculation capacity of this equipment appropriately for aircraft fuel cells by employing a proprietary ultra-high-speed motor (see Figure 2) with a gas bearing using hydrogen. It thus significantly boosted output and efficiency while reducing the size and weight of recirculation equipment.

The gas bearings do not use lubricating oil. This eliminates the risk of oil contaminating hydrogen. In addition, the non-contact condition of the rotating shaft allows for high durability.

Furthermore, the equipment system features a sealed design for use in a hydrogen environment. IHI enhanced motor exhaust heat performance to reduce heat damage to the motor. This system will enable hydrogen recirculation for large fuel cells with a power output exceeding 400 kW, which is required for aircraft fuel cells. Conventional small-volume blowers have had to operate multiple units in parallel.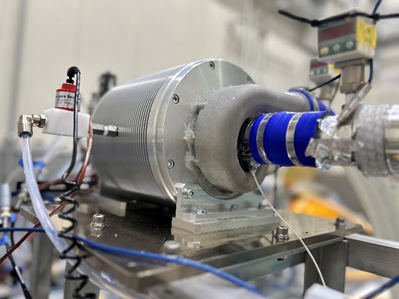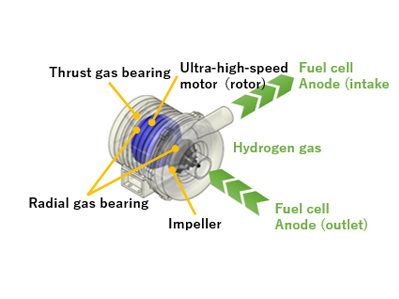 Performance evaluations of the completed prototype were conducted at the Soma IHI Green Energy Center (see note 2) and the Joint Research Center for Electric Architecture at Akita University (see note 3).As a result, it was confirmed that the required performance could be obtained. Previously it has been hard to achieve performance in environments with hydrogen gas from fuel cell cathode exhaust gases and in high humidity environments containing water vapor. Applications for this breakthrough will extend beyond aviation to include developing high-output fuel cell mobility setups for ships and large trucks.

IHI will continue to work on the development of electric hybrid propulsion systems to electrify aircraft, pushing ahead with efforts to develop a hydrogen recirculation system that it would verify on a fuel cell system by the end of 2024.
Combining high-output electric motors for aircraft propulsion with electric turbo compressors that supplies air to fuel cell and high-flux plastic magnet rotors that are also under development should contribute to the practical deployment of hydrogen fuel cell aircraft during the 2030s. The company will also progress with electrifying and optimizing entire aircraft systems by integrating its technologies, including engine-integrated electric motors, into fuel cell electric hybrid jet engines.

Notes
A gas bearing hydrodynamically draws in ambient gas to form a gas film when a shaft rotates at high speed, with the film allowing the rotor to float or levitate and achieve self-supporting rotation.
The Soma IHI Green Energy Center opened in 2020 as an initiative to create a "smart" community that produces recycled energy locally for local consumption, harnessing hydrogen to eliminate carbon dioxide emissions. The center serves as an advanced technology development hub for harnessing hydrogen. It uses surplus electricity generated from a 1,600kW solar power setup to produce hydrogen. It will also operate as a testing ground for hydrogen, including to research and demonstrate hydrogen utilization and energy carrier conversion technologies for a hydrogen-based economy.
Akita University received a grant under the Subsidy for Regional University & Regional Industry Creation Project to establish the Joint Research Center for Electric Architecture in April 2021. It runs this facility with Akita Prefectural University. The center was set up by renovating the former Tanehira Elementary School in Yuwa, near Akita Airport, and houses the Evaluation Laboratory for Next Generation Motors.
Related press releases
March 30, 2020: Development of the world's first Aircraft jet engine-embedded electric machine with high power density and heat resistant ~For optimizing the energy management of aircraft system to reduce CO2 emission~
https://www.ihi.co.jp/en/all_news/2019/aeroengine_space_defense/1191910_2025.html

March 31, 2023:
IHI succeeds in developing a prototype of a high-power electric motor for aircraft propulsion systems
https://www.ihi.co.jp/en/all_news/2022/other/1198233_3498.html

June 15, 2023: IHI Announces Magnet Rotor for Ultra-High-Speed Motors that Could Revolutionize Performance, Production, and Economy of Electrified Aircraft and Automotive Propulsion Systems
https://www.ihi.co.jp/en/all_news/2023/technology/1199840_3531.html

IHI Develops One of World's Lightest and Most Compact Electric Turbo Compressors Incorporating Proprietary Air Bearing Technology that Could Help Materialize Aircraft Fuel Cell Propulsion Systems
https://www.ihi.co.jp/en/all_news/2023/technology/1199839_3531.html

September 10, 2020: IHI Opens Soma Lab, a Research Facility in Fukushima Prefecture for Renewable Energy-Derived Hydrogen Utilization (in Japanese only)
https://www.ihi.co.jp/all_news/2020/other/1196903_1611.html