Concrete Construction Materials
IHI is the leading company in segment construction technology and has provides diverse segment construction of each era. IHI also develops and provides constantly new methods and products for civil works and building constructions.
---
Concrete Construction Materials
Segment
Segments (concrete, steel-structure or hybrid) that constitute the outer wall of tunnels has various applications including underground highways, subways, waterworks and sewerage, stormwater storage pipes, electricity and communications.
---
Tunnel, Cross Structure
PCL Method
The PCL method is used in repair or reinforcement of tunnel constructions. It has various applications including road tunnels, water tunnels and more.
PC-ATM Method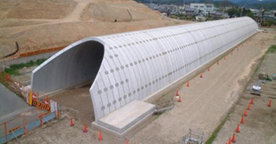 The PC-ATM method is used mainly for cross structure construction under roads. It enables shorter construction period and lower labor and energy at site.
URT Method
The URT method enables safe and reliable construction of large structures under operating Shinkansen lines and expressways by drilling with a small steel square element.
---
Noise Barriers and Landscape-blocking Walls
Noise Barriers and Landscape-blocking Walls
IHI has provides various noise barriers and landscape-blocking walls which use lightweight and sound absorbing GRC material in order to reduce flame noise and protect machinery and landscape in thermal power plants.
Inquiries for Products
Download Documents
Other Products