Equipment for Plants
IHI provides a wide variety of equipment for various plants, including cooling towers for process plant.
---
Equipment for Plants
Pressure vessels
IHI designs and manufactures towers, drums and heat exchangers for oil refineries and petrochemical, chemical, and gas treatment plants and engages in structural analysis and aseismic design involving such equipment. The manufacturing is conducted by IHI group companies and their partners in Japan and overseas. We are also conducting the on-site retrofit of large-scale towers and vessels, including FCC units.
Furnaces
IHI has continued to provide cutting-edge furnaces for half a century since the beginning of technological cooperation with Foster Wheeler, a global engineering company based in the United States, reaching a total of 400 furnaces. We are also capable of constructing coker heaters and ethylene cracking furnaces as well as retrofitting existing furnaces to save energy, enhance capacity and replace tubes.
Large-sized industrial cooling towers
IHI supplies various cooling towers optimized for different facilities including chemical plants, oil refineries, steel mills, paper mills and cement manufacturing.
Large-sized cooling towers for power generation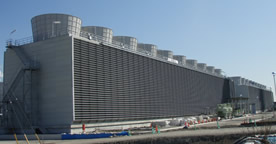 IHI provides optimized cooling towers in accordance with environmental needs, including new versions with unique IHI in-house white smoke reduction technology.
Large-sized cooling towers for geothermal power generation
IHI provides cooling towers optimized for geothermal power generation as well as engineering that copes with atmospheric exhaust emissions and environmental assessments.
Cooling towers for regional air conditioning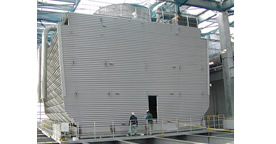 IHI provides cooling towers that generate low noise, vibration, mist and white smoke and with minimal visual impact for regional air-conditioning; demand for which is increasing in accordance with growing environmental needs.
Air-cooled heat exchangers
Air-cooled heat exchangers exchange heat indirectly between liquid in finned tubes and the air outside the tube. IHI supplies heat exchangers to various fields, including petrochemical plants, waste incineration plants, and various other power plants based on more than three decades of experience. We also replace tube bundles and enhance the capacity of existing facilities.
Steel chimneys
Chimneys continue to emit combustible gases into the atmosphere while combustion equipment is in operation. As chimney failures result in the entire system having to shut down, regular inspections and repair are crucial. IHI's chimneys are based on comprehensive engineering, supported by our wealth of accumulated experience and technologies as a "pioneering steel chimney manufacturer." We provide the entire process from plans, construction, maintenance, repair, and construction of foundation, and backup services.
Super Pulverizing mills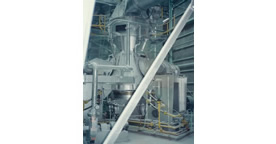 IHI's mills are of the dry process system, most efficient among vertical roller mills and capable of grinding materials such as limestone, talc and silica dust that are tens of millimeters to micron level in a single process. Our high-performance classifiers satisfy various article size requirements.
Super hybrid Vertical mills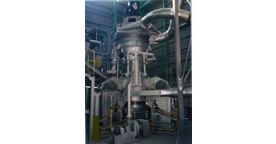 Special precision classifiers for sizes below micron level are mounted in place of conventional separators to enable various materials to be processed to sub-micron size in dry milling. Even if the wet process is not applicable, our mills are still capable of pulverizing.
Calcium carbonate grinding mills
IHI's calcium carbonate mills are capable of milling heavy calcium carbonate widely used as coloring and compound powder for paints, rubbers and plastics with least power consumption among dry mills. We are able to provide compact milling system with fans and bag filters for product collection. They are most adequate for the production of lime powder for flue-gas desulfurization.
Water treatment plants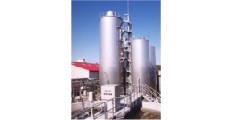 IHI has hundreds references for water treatment plants such as aerobic treatment facilities with the membrane separation, and anaerobic treatment with the Paques, Netherlands technology. We continuously provide the solutions for renewable and CO2 reduction.
Inquiries for Products
Contact
Download Documents
Other Products