IHI and A*STAR sign MOU to launch Joint Centre for Research and Development –Accelerating technology development such as Carbon Recycling that contributes realization of sustainable society-

IHI Corporation (IHI) announced today that it has signed a Memorandum of Understanding with A*STAR's Institute of Sustainability for Chemicals, Energy and Environment (ISCE² (*1)), in Singapore to launch a Joint Centre for Research and Development. The MoU was signed at a Steering Committee Meeting.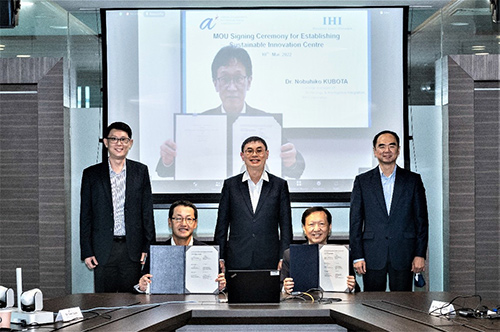 On screen: Dr Nobuhiko Kubota, Executive Officer, General Manager of Technology & Intelligence Integration of IHI Corporation.
Seated, Left to Right: Mr Hiroki Kobayashi, Chief Executive Officer of IHI Asia Pacific PTE. LTD. and Professor Yeoh Lean Weng, Chief Sustainability Officer, A*STAR and Executive Committee Member, ISCE².
Standing, Left to Right: Mr Dennis Ling, Group Director, Enterprise, A*STAR, Professor Tan Sze Wee, Assistant Chief Executive, Enterprise, A*STAR, and Dr David Low, Chief Executive Officer, Advanced Remanufacturing and Technology Centre, A*STAR.
IHI has been partnering A*STAR, Singapore's lead public sector R&D agency, on the development of a CO₂ methanation Catalyst and related technologies under a research collaboration since 2011. Some key milestones include the Master Research Collaboration Agreement between A*STAR and IHI, which was first signed in 2014 as well as the 1st research collaboration agreement regarding the methanation catalyst, which ended with the successful achievement of target performance in 2018. In 2019, we have launched a demonstration unit of the methanation catalyst and reactor in the ISCE² facility on Jurong Island. Furthermore in 2021, IHI also delivered its first commercial methanation unit to Asahi Group to test with recovered CO₂ and hydrogen.
In addition to the achievement shown above, the Joint Centre will accelerate our Carbon Solution development in projects such as Methanation, Lower Olefin Production or Sustainable Aviation Fuel. The Joint Centre aims not only the direct treatment of CO₂ but also to plant new technology seeds for the achievement of a sustainable society. We are planning to utilize the Joint Centre as a hub for collaborative and co-creation research with potential partners worldwide.

Through the launching of this Joint Centre, IHI will strengthen our activity towards realizing Carbon Neutral society by proceeding with R&D for Carbon Recycling or Renewable Energy application.
Joint Lab. Information
| | |
| --- | --- |
| Name : | IHI-ISCE² Sustainable Innovation Centre |
| Location: | Institute of Sustainability for Chemicals, Energy and Environment, 1 Pesek Road, Singapore 627833 |
| Under operation from: | 1st Apr 2022 (planned) |
(*1)

ISCE² :
A*STAR has established a new research institute to support Singapore's sustainability goals. Known as the Institute of Sustainability for Chemicals, Energy and Environment (ISCE² , pronounced "I-S-C-E-squared"), the institute will advance R&D in areas such as low-carbon technologies, carbon life cycle assessment, sustainable materials and green manufacturing processes using the latest digitalisation and automation tools.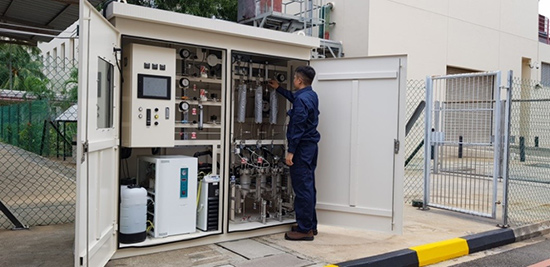 Demonstration plant of methanation technology installed in ISCE²


<Relevant Press Release>

-November 11, 2021-
Japan's New Energy and Industrial Technology Development Organization Commissions IHI to Recycle CO₂ and Develop Olefin Manufacturing Technology -Company to recycle carbon as raw material for plastics and resins-
https://www.ihi.co.jp/en/all_news/2021/resources_energy_environment/1197588_3360.html
-August 31, 2021-
IHI Delivers its First Methanation Unit to Asahi Group Facility to Test Methane Production with Recovered CO₂ and Hydrogen for Carbon Recycling
https://www.ihi.co.jp/en/all_news/2021/resources_energy_environment/1197524_3360.html
-May 13, 2019-
Development of demonstration equipment for methanation technology that produces methane from CO₂ - New CO₂ recycling technology for the realization of a carbon recycling society –
https://www.ihi.co.jp/en/all_news/2019/resources_energy_environment/1191906_2022.html