Resources, Energy and the Environment
IHI Initiates Southeast Asia's First Ammonia Co-Firing Pilot Facility at Operational Power Plant with View to Swift Commercialization Across Region
IHI Corporation announced that it co-fired ammonia on October 12 with PT PLN Nusantara Power (PLN NP) at the No. 1 Boiler of the gas-fired Gresik Steam Power Plant. That company is a wholly owned subsidiary of PT Perusahaan Listrik Negara (PLN), Indonesia's state-owned electric power company. IHI and PLN NP modified burners in the boiler for this purpose.
This ammonia co-firing with fossil fuels at an operating unit was a first in South-East Asia. This effort proved the potential of ammonia co-firing technologies at an existing facility and the feasibility of deploying a range of facilities for ammonia co-firing. It also enabled IHI and PLN to form a common approach to endeavors and technologies that will be necessary to expand co-firing ratios.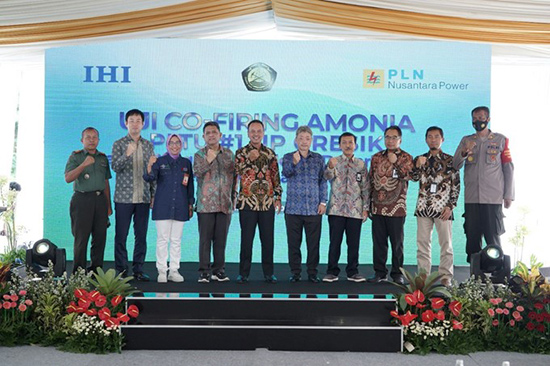 Government officials and PLN representatives at co-firing initiation ceremony on October 12
Key officials from Indonesia's Ministry of Energy and Mineral Resources and representatives of PLN attended a co-firing initiation ceremony to commemorate this significant step toward decarbonizing Indonesia's power sector. The Indonesian government, PLN, and PLN NP look to employ carbon-neutral fuels at thermal power plants in a drive with to eliminate the nation's greenhouse gas emissions by 2060.
Those two companies and IHI are accordingly exploring specific co-firing and mono-firing technologies for coal-fired and other thermal power plants. One particular focus is ammonia, which is free from carbon dioxide emissions when burned. Another is biomass, which Indonesia hopes to tap as a renewable energy source. This co-firing initiative aims to build understanding and foster the swift adoption of carbon-neutral fuels in Indonesia and across Southeast Asia.
IHI will leverage this initiative to present specific ways for the region and the wider world to transit to sustainable energy and become carbon neutral. It will present diverse models for using carbon-neutral fuels. It aims to propel the commercial adoption of ammonia and other carbon-neutral fuels and supply a top-quality infrastructure that lowers environmental impacts worldwide.
This ammonia co-firing was in line with an Association for Overseas Technical Cooperation and Sustainable Partnerships commission to IHI in July this year for the AEM-METI Economic and Industrial Cooperation Committee as part of a project to promote cooperation in deploying Japanese power sector decarbonization technology in the Southeast Asian power sector for the Asia Green Growth Project Promotion Program under Japan's Fiscal 2021 Supplementary Budget.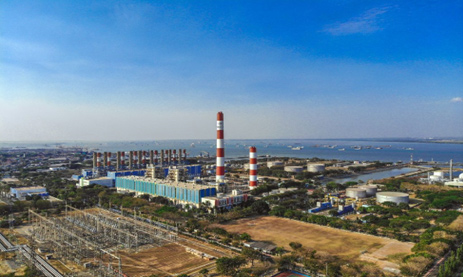 Gresik gas-fired Steam Power Plant
 
Related news links
April 25, 2022: IHI to Verify Ammonia Co-Firing and Mono-Firing Technologies at Indonesian Thermal Power Plants
https://www.ihi.co.jp/en/all_news/2022/resources_energy_environment/1197857_3488.html
July 27, 2022: IHI Embarking on Government-Funded Ammonia Co- and Mono-Firing Study in Indonesia that Could Help Southeast Asia Decarbonize
(This release mentioned PT Pembangkitan Jawa-Bali, which was renamed PT PLN Nusantara Power in October this year)
https://www.ihi.co.jp/en/all_news/2022/resources_energy_environment/1198001_3488.html