Steelmaking Equipment
IHI provides steelmakers with advanced blast furnaces, coke ovens, and sinter plants that contribute to the safe, economic, and environmentally friendly production of the steel products that enhance modern living.
---
Industrial Furnaces
Blast furnace
PWIHI offers state-of-the-art technologies for the primary stage of integrated steelmaking (mainly blast furnaces and coke oven plants), ranging from engineering to a full spectrum of EPC (Engineering, Procurement and Construction). Since 1941, IHI has built and relined over 90 blast furnace plants in and outside of Japan. Backed by a wide range of experience of Paul Wurth Group (Luxembourg), a number of our coke oven plants have been adopted by Japanese customers.
(© : NIPPON STEEL & SUMITOMO METAL CORPORATION)
Reheating Furnace
IHI has abundant experience supplying reheating furnaces for hot strip mill and plate mill both in domestic and overseas market since 1965. Customers enjoy energy saving through the regenerative burner technology supplied in our latest reheating furnaces.
Heat-treatment furnaces
IHI is the leading company as a supplier of the heat treatment furnace used in steel companies for the production of heavy plates. IHI has top share in the domestic market since 1958. We keep continuing to serve our customers supplying heat treatment furnace as well as roller quenching system meeting our customers' requirement and expectation.
DC electric arc furnace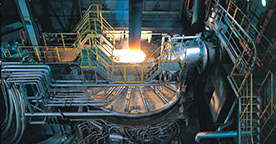 Electric arc furnaces produce steel, using scrap as raw material and have been supplied worldwide. A new furnace which significantly increases productivity by simultaneous preheating and feeding of raw material has been developed and available.
---
Stepping Cylinder
Stepping cylinder
The stepping cylinder is a positioning cylinder with a built-in mechanical feedback function, and it controls precisely the speed and the position by electrical pulse signals.
Inquiries for Products
Contact
Other Products