Overhanging erections for cable stayed bridges
Balancing erection method
"Floating balance toy"
The usual method for the construction of cable stayed bridges is to erect the girders in the side span at first, and then to erect the center span by the cantilever erection method. However, this method requires an underwater bent for the erection of the side span, and this can have a substantial effect on the environment.
We provide a solution to this problem by the "Balancing Erection Method", where the main girder is erected from a tower, to both sides of the axis direction, by using a "Diagonal Bent". This method does not require an underwater bent. Although this may look like some kind of balancing toy, and you may think it is unstable, actually good stability is secured by applying our advanced position control technologies. This erection method is stable even during an earthquake or typhoon.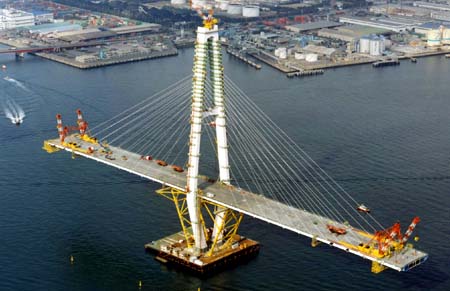 The Balancing Erection Method involves spereading the girders along both sides of the tower in the axis direction.
Girders are erected block by block in this method - one stage of the cable is connected to one block of the girder, supported by the diagonal bent, and then another block will be lifted and connected to the cable. This process is repeated to the maximum possible point. In the end, the girder will be completed by the closure of the side span.
Quite sensitive control of balance is required for this closure process of the side span, after which the diagnal bent will be removed and the center span closed.
In every process, sensitive balance control is vital for the safety of the atructure, even during erection. IHI takes advantage of its analysis technolgy on the cable stayed bridge - a highly non-static structure.
Other Technology