Transporter bent erection method
Transporter bent erection method
- A nighttime illusion towering over the road -
Methods for erecting girders above heavy traffic include the launching method and the whole erection method.
The launching method requires a back yard (to assemble girders) and the whole erection method requires a crane capable of lifting a weight over the girders to be erected.
There are bad conditions where neither method can be used. Even in such a case, however, we can use our trump card: 'the transporter bent erection method.'
During the course of one night, with the road closed, a bent is installed, divided girders are erected, and the bent is removed.
The worse conditions become the higher technology we can demonstrate.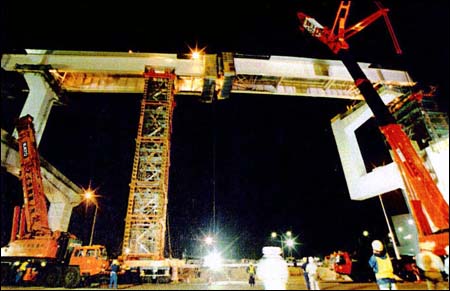 The transporter bent erection method means installing a bent on a transporter first and then moving it to the erection point as it is.
Erect a girder divided in two on the bent, rapidly erect the other girder and join them. After tightening the fewest possible bolts, remove the bent. The bent is kept vertical even on rough roads without damaging the roads by utilizing the adjusting function of the transporter.
Our purpose is not just erecting bridges. We also aim at minimizing the impact on society.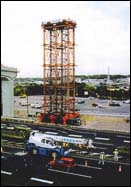 Other Technology