Efficient concrete placing for RCD dams
Pull-in method
Minimizing the suspension period of concrete placing
IThe pull-in method means that no block shall be suspended at the stage of concrete placing by pulling a pre-assembled structure, that consists of discharge pipes or other components fabricated on the stage, into the dam body using placing lifts.
The RCD(Roller Compacted Concrete) method have several advantages in concrete placing.With this method, bulldozers, vibrating rollers and many other machines can be employed and concrete can be placed rapidly in bulk, and it will make the construction faster, cheaper and safer.
The pull-in method can make it possible to cut down the suspension period of concrete placing and to reduce the deterioration of dam body without spoiling any advantages of RCD method, and this will achieve cheaper, faster and safer construction projects with higher quality.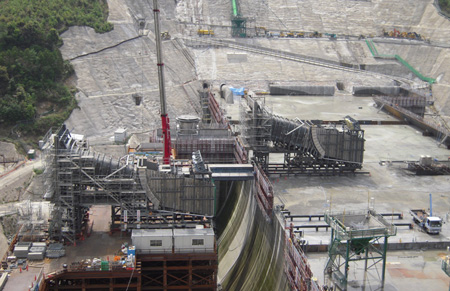 Other Technology