Lift-up barge erection method
「Lift-up barge erection method」
- Fruit of erection technology on water -
The floating crane erection method is generally utilized for whole, large-block erections on water. However, there are some cases where the whole erection procedure with large blocks is required in such a place where a floating crane cannot enter.
We have the technology for using a lift-up barge to erect large blocks under such adverse conditions.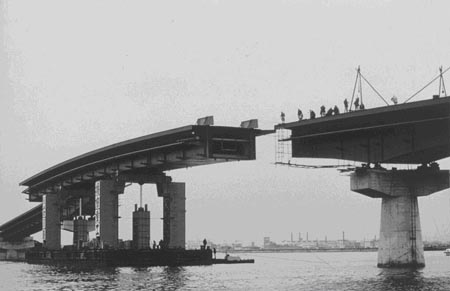 The lift-up barge erection method means erecting bridges by installing equipment with a lift-up system on a barge deck and lifting up/putting down girders. The barge passes under obstacles on the transportation route and is moored at a certain point with a mooring winch at the erection point.
Putting lift-up equipment, the tide and ballast (to pour water in a barge for stability) into full use, we perform the whole erection procedure in synchronization with the mooring winch operation.
We have vast experience in lift-up barge erection beginning with the Keihin Bridge in 1971.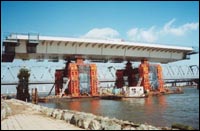 Other Technology