Onshore / Offshore LNG Terminals & Tanks / Gas Power Generation
Floating LNG Terminal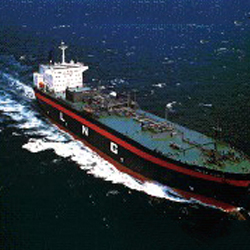 Extracted natural gas is cooled and liquefied before shipping. Gas extracted from deep sea gas fields was formerly transferred to land liquefaction terminals via pipeline. However, recently, applications for floating LNG, i.e. LNG produced and shipped at sea, have expanded, which has enabled less expensive transportation. IHI has reacted swiftly to the trend to provide its original floating LNG. IHI's quake-resistant prismatic tanks and the effective use of ship space are widely acclaimed.
SPB Tanks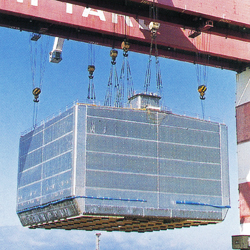 The SPB(Self-supporting Prismatic shape IMO type B) tank which is one of key technology to realize an F-LNG/LPG-FPSO, ensure the safety, access-ability during operation/maintenance with high storage efficiency. We can offer SPB tank to the diverse needs of customers all over the world, such as FSO, LNG carrier, LNG fuel tank for merchant vessel and multi-offloading carrier.
LNG Tanks and Terminals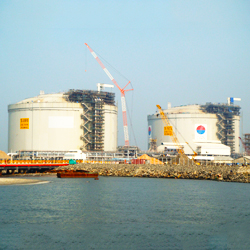 Having a substantial share in Japan for LNG receiving terminals and LNG storage tanks, IHI is active in the international LNG receiving terminal market and has EPC experiences in India, Qatar, Mexico, Taiwan, United States and China
LNG Satellite Plants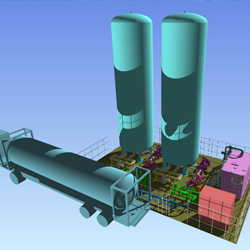 IHI has long been a forerunner in the field of handling LNG, with our established engineering capabilities, we are able to customize the Best Solution to suit our clients' diverse and complex engineering demands.
LNG Satellite Plants can be applied in many situations including factories with no piped gas, isolated LNG refueling stations etc. One main component of the plant setup is the LNG Storage Tank. The LNG tank capacity can range from 50 m3 to 1,600 m3
Process Gas Compressors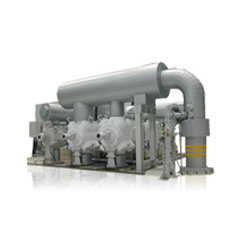 IHI compressor can be applied for various services such as for Petroleum refining, Petrochemical, Chemical, City gas processing, Power gas generation and Natural gas processing. With rising demand for gas compressors to handle low temperature services, IHI has produced its 1st compressor back in 1952 for LPG BOG service and have since been expanded to include LEG, LNG etc.
Gas Turbines / Gas Engines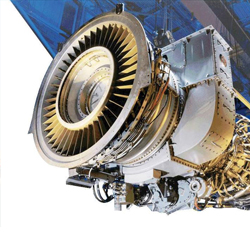 IHI provides high efficient and reliable gas turbines derived from aircraft jet engines, and gas/diesel engines. These engines and turbines can be applied for multiple power generation systems such as simple and combined cycle, combined heat and power, and emergency power supply all over the world. Thanks to the advanced and high efficient design with low NOx system, we are capable of achieving stable energy supply to our customers and it contributes to reduce CO2 and NOx emissions.
Other Products