Service & Maintenance
Fast Action for trouble
On-call service
24hours 365days emergency service
Irrespective of Midnight or Weekend, customers of IHI Logistics and Machinery Corporation are available to contact our call center during 24hours and 365days. In addition, for the contracted customers, priority service (such as rapid dispatch of technician) will be provided regardless of the time.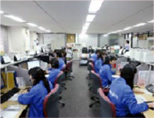 Service center
Remote maintenance service
Implement maintenance by controlling computer system from remote.
Spare part supply
Other Products