Material Handling System
Logistics Solution
Offering the optimal logistics solution for our customers by leveraging the experience we have acquired across all fi elds, including material handling centers and material handling storage.
Based on the knowledge we have acquired as a comprehensive logistics manufacturer, we organically combine hardware and software technologies to pursue lower costs and higher reliability in the logistics and material handling fi elds.
Backed by a myriad of technical resources, we propose the optimal logistics solution for customers.
Example of Distribution Center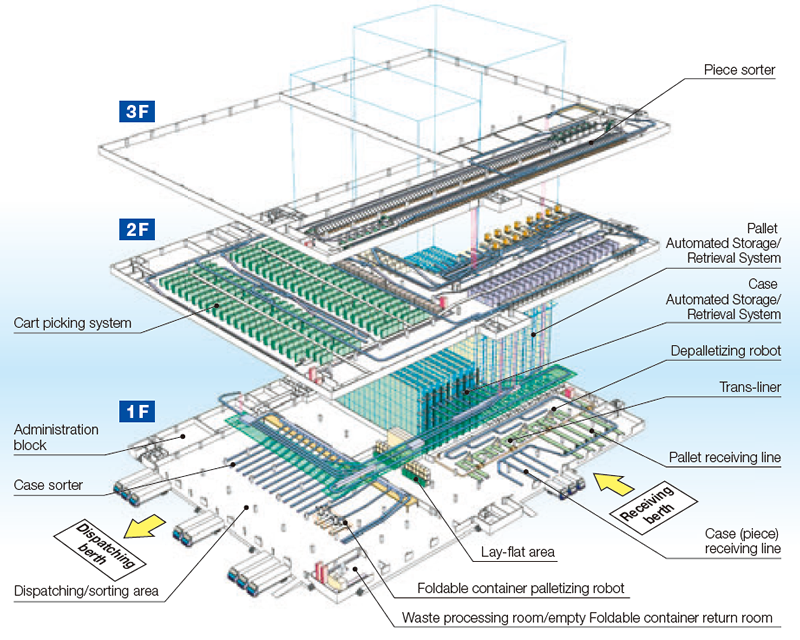 Logistic solutions offered by IHI Group
Investigation/analysis
Concept design
Optimization of material handling fl ow and operation foot prints
Selection of material handling devices that consider throughput balance
Examination of effi cient personnel allocation
Linkage of overall system control and host systems
---
Storage
Achieving high economic performance with outstanding results and advanced technology
Standard Automated Storage/Retrieval System
Rackpack/Robostack
Slim and compact
A new design for the extreme minimization of unnecessary gaps. Overwhelming
storage effi ciency
High-speed & smooth
Equipped with original motion control software. Gentle and quick acceleration to
maximum speed
Energy-saving & ecological
Signifi cant reduction of power consumption as a result of the lightweight body
and utilization of regenerative power
Auto-Stack Building – Building Integrated-type
Automated Storage/Retrieval System
Automated Storage/Retrieval System leveraging the comprehensive technical
capabilities of the IHI Group
Excellent space effi ciency and short lead-time
Outstanding results including refrigerated storage, hazardous materials
handling, vehicle storage, etc.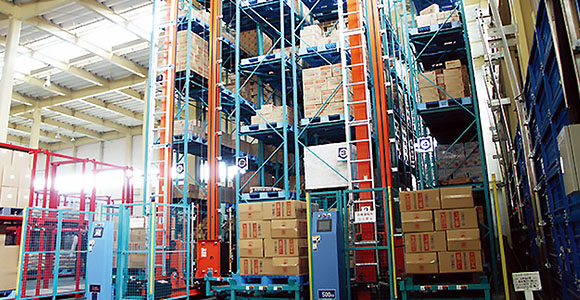 Rackpack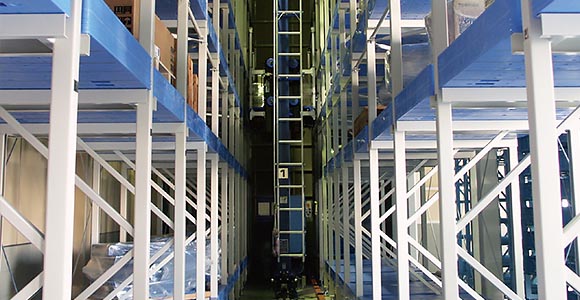 Rackpack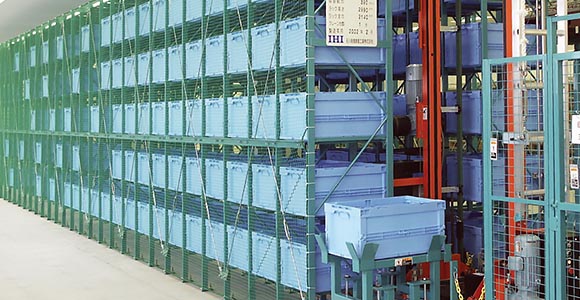 Robostack
---
Conveyance
Quiet, high-speed unmanned conveyance for a variety of logistics types
Unmanned Conveyance Systems
Smooth & shockless
Inverter control enables smooth, shock-free sending, stopping and acceleration
Variety transfer equipment
Fully-automatic loading/unloading is possible with conveyors, push-pulls, lifters and more
High standard footwork (AGV "Fact Liner" )
Both guidance methods (magnetic/laser) are capable of forward and backward movements, as well as spinning, turning, lateral motions, and effi ciently navigating complicated routes.
High speed + high accuracy (RGV "Trans-liner")
Amongst the industry's best in regards to maximum speed, stopping accuracy, and smooth acceleration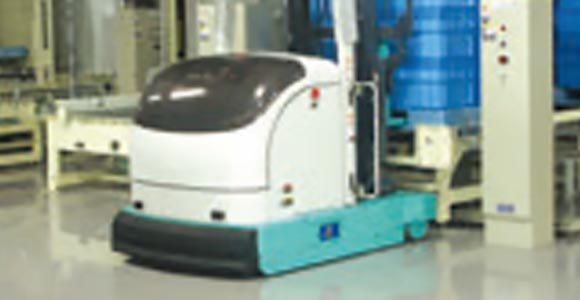 Fact Liner (AGV)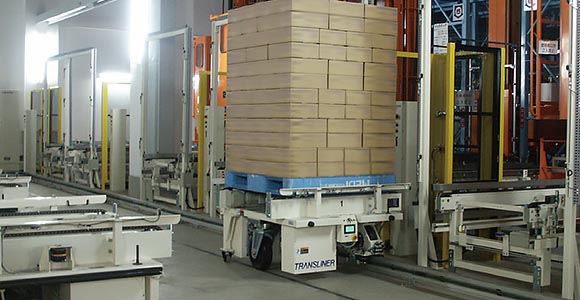 Trans-liner (RGV)
---
Sorting & Picking
Reliable, speedy picking system
Shuttle & Server
Multi-story structure type High performance case Automated Storage/Retrieval System
By combining high loading/unloading capability with the high-density storage capability of Automated Storage/Retrieval System, the full automation oftemporary storage and high-speed/accurate sorting is achieved
Maintains stable operation even with a high operating rate due to a robust structure. Energy savings and open space are achieved through a lean structure and through weight reduction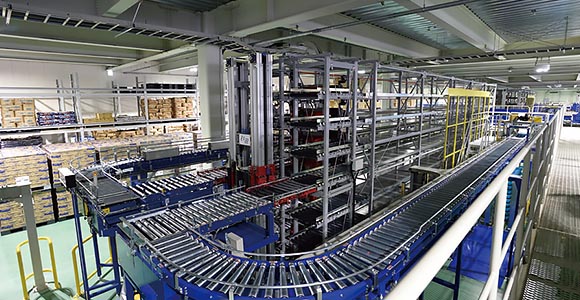 Shuttle & Server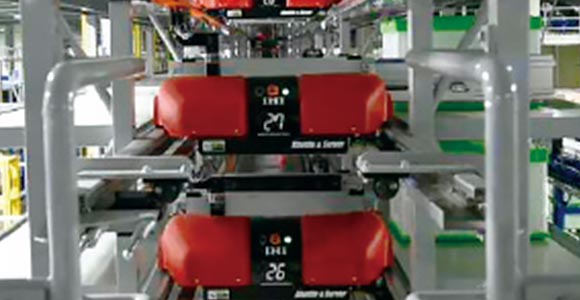 Shuttle & Server
IHI Depalletizing system (AADS)
IHI launched the New depalletizing system controlled by our original Deep-leaning AI system.
It's the worlds first AI depalletizing system and its cognitive performance improved by 30%
Pre-registration of data and teaching are unnecessary by object recognition technology by AI.
It is possible to correspond even pallets loaded with loads of various sizes.
Optimize the grip point and arm route. Improved throughput by 30%.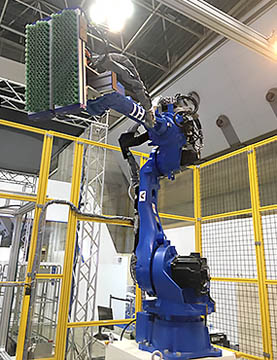 IHI Depalletizing system(AADS)
---
Construction / Set up / Control
From construction to set up of machinery, test running of machinery and technical support after delivery, we try to provide value added products with safety and speed. Technicians who have plentiful experience for logistics plant construction both for domestic market and overseas, will provide matching service for each customer site, which will connect to timely operation. Moreover, after operation is started, high quality service will provided continuously by our service department.
Construction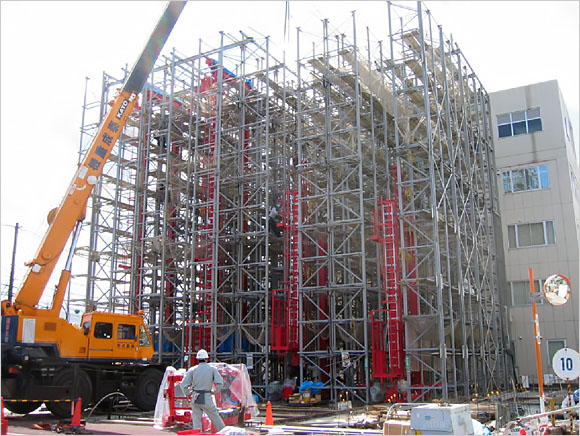 Assembly construction of stocker crane which is the main part of auto-warehouse system.
Set up & test drive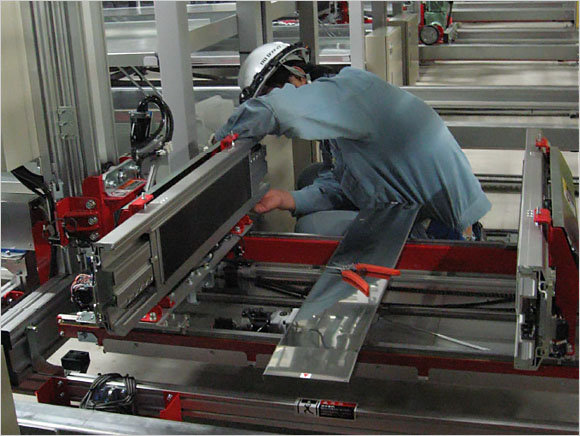 Checking various safety system(sensor etc)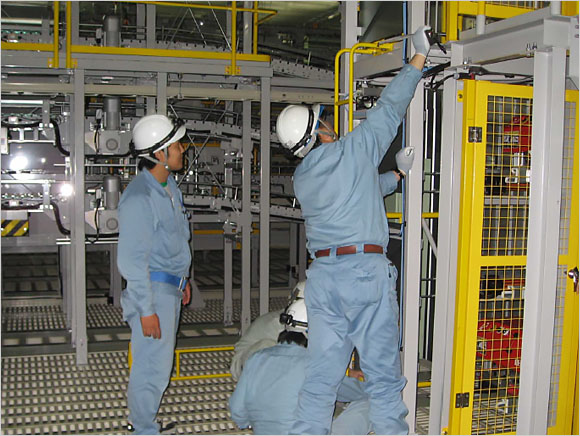 Setting up transfer system for handling products
Inquiries for Products
Contact
Other Products