Rio Tinto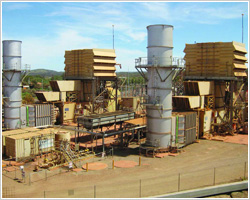 Rio Tinto Group implemented 3 units of IHI LM6000PC gas turbine power generation (total output: 120 MW) installed at locations in Western Australia for use as the main power supply for company-held iron-ore mining areas and ports for exporting.
---
LM6000PC Power Generation System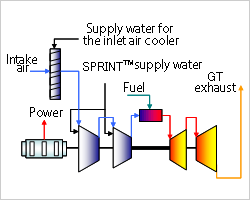 Rio Tinto Group, an Australia-based mining and metals corporation, implemented 3 units of IHI LM6000PC power generation installed at locations in Western Australia to supply electricity power for iron-ore mining operations.
These power generation units were implemented by Rio Tinto Group to correspond to aging of the existing thermal power generation facilities, recent increasing demand for iron-ore materials, and increasing awareness of environmental issues related to climate change affecting the world.
LM6000PC model was selected because our customer had evaluated the following LM6000PC advantage points:
- hight output and high efficiency used as simple cycle (output per unit: 40 MW, efficiency: 40%)
- maintainance flexibility of gas turbine module caused by aero-derivative gas turbine structure
- operation flexibility at partial load to correspond to electricity demand
The power output decrease was expected because the these LM6000PC gas turbine power plants ware planned to be located in the area with high temperature so that more power consumption was needed for compression of high temperature intake air.
The output of the gas turbine in this unit was expected to be lower than normal at this location due to the temperatures of the intake air being high due to the unit being installed in an area with high temperatures.
Thus, the intake air cooler system utilizing water evaporation (Evaporative Cooler) and the SPRINTTM SYSTEM were implemented at LM6000PC power generation units in order to prevent power output decreasing.
Also, IHI original control system "CSI-III" was installed at gas turbine power plant contorl system. High-performance LM6000PC gas turbine engine and "CSI-III" allow to realize reliable and stable power generation.
Installed gas turbine

LM6000PC-SPRINT
Specifications
Model
LM6000PC
Power output
40 MW × 3 units
Fuel
Natural gas
Start of operation
Unit No. 1: April 2006
Unit No. 2: January 2007
Unit No. 3: December 2008